Hotels Donate Linens to Homeless Shelter
March 28, 2006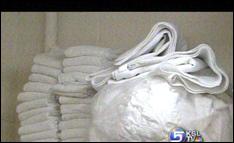 Shelley Osterloh Reporting
The Road Home Shelter is getting thousands of sheets and towels to help the homeless feel a little more comfortable at the shelter. The donation is a team effort from several companies.
In a room at Orem's Hampton Inn and Suites, bags and bags of sheets, pillow cases and towels are stacked and waiting to be laundered. Five different hotels donated the linens and then staff at the Hampton Inn and Suites agreed to launder and fold it.
Tina Phillips, Exec. Housekeeping, Hampton Inn and Suites Orem: "They are doing their full eight hours of work during the day, then they punch out at 4:30 and stay until 8:00 or 9:00 at night to launder the linens, wash, fold and bag them up."
The donation is a team effort. The University Inn, two Hilton Hotels and Crystal Inns donated the linens. Proctor and Gamble Professional sponsors the program called "Linens from Lodging", and along with its distributor, Hyko, donated the Tide, Downy and Clorox to clean them.
Blair Hope, P & G Professional: "It takes a lot of time. From the Hampton Inn's laundry personnel to the Road Home inventory, everyone's got to coordinate it logistically to make something like this happen."
Angelica Macias, Housekeeper, Hampton Inn & Suites: "It's our way of giving back to the community."
During the winter, The Road Home has more than 850 beds for single men, women and families.
Benita Flores, Development Coordinator, The Road Home: "After you use them so many times, you have holes and stains and we treat all our clients with dignity and respect. We don't want to hand them something I wouldn't personally use at my; home so we want to team them that way."
Road Home workers gathered some of the linens that were ready, but it will likely take several more days to complete the laundering. But those who contributed, say it's been rewarding to help others.
Tina Phillips, Exec. Housekeeping, Hampton Inn and Suites Orem: "Just to know that I'm helping somebody out gives me chills and makes me warm in the heart."
The Linens from Lodging Program is currently in 14 major cities.