Man drowns in Blacksmith Fork River trying to save sister
July 23, 2011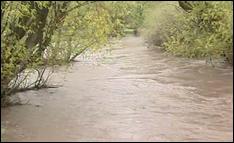 HYRUM, Cache County -- A 22-year-old man drowned Saturday in the Blacksmith Fork River trying to rescue his teenage sister, who lost her footing and fell into the water during a fishing trip.
Gregory Gray and his 16-year-old sister, Jaycee, were crossing an old spillway when she slipped into the rushing river, said Cache County sheriff's Lt. Brian Locke. Gregory Gray, of North Ogden, tried but was unable to pull her out and she started floating downstream.
"We think at that point he dove in to help her and never came back up," Locke said.
Jaycee Gray was able to reach the bank and pull herself out of the water. She returned to where they had tried to cross the spillway but was not able to see her brother, he said. She stopped a motorist who was driving out of the canyon and called 911.
Cache County Search and Rescue found Gregory Gray's body in some debris about three-quarters of a mile from where he jumped in. Locke said it is unkwnown whether he was injured after he jumped or was caught in the undertow of the spillway.
Medical personnel checked Jaycee Gray at the scene and released her to her parents. "Emotionally, she's really upset," he said.
Locke said Gregory Gray's parents told him it would not be uncommon for their son to risk his life for anyone. "So it didn't surprise them that he went in after her," he said.
Greg's LDS bishop Kyle Anderson described him as an all- around great guy -- someone who made people feel as though he was their best friend as soon as they met.
"He had a tremendous sense of humor. He loved to laugh," Anderson said. "That's why he had so many friends because he was so fun to be around."
Greg loved the outdoors -- whether it was hunting or fishing -- and he was also an athlete. He also recently returned home from an LDS mission to Portland.
Like many rivers in Utah this summer, the Blacksmith Fork River remains swift and chilly. "The water is still really cold and still incredibly high for this time of the year," he said.
----
Written by Dennis Romboy and Sarah Dallof.