Foster care providing better life for Utah kids
February 16, 2011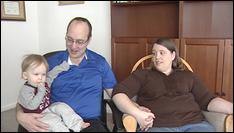 UTAH COUNTY -- Hundreds of kids are placed in new homes every year by the Utah foster care system. The stories that land them there are often among the toughest to report, horrific tales of abuse and neglect.
Because of confidentially laws that's often where the story, as we know it, stops. Also because of those strict laws, the foster care system and the Division of Child and Family Services can come across in a negative light.
But a Utah County family recently let KSL News into their home to see that life goes on and gets better.
At just 1 year old, Skyler Flake is nothing short of a comeback kid. A little shy at first, he quickly warmed up to our cameras and got right back to doing what he should be doing: being a little boy.
"With him, we knew he existed five hours before he came into our home," said Sarah Flake, Skyler's adoptive mother.
Sarah and her husband, Andrew, decided to become foster parents after they were unable to have kids of their own. Over the years, they've welcomed six kids into their home. Skyler is the only one they've adopted so far. He came with injuries so severe they landed him in the hospital.
"We had to be extra fragile and extra careful," Andrew said.
At first they were nervous to burp him, to hold him. But kids are resilient, and Skyler healed quickly.
"Because of his physical injuries they said he might walk late. He was walking at 10 months," Sarah said.
"It's an amazing success story," said Nancy Zelenek, a local foster care trainer.
As part of her job, Zelenek spends four hours a night, once a week, for six weeks, laying it bare -- the good, the bad, the truth about being a foster parent.
"[I teach] what to do if a foster child opens up to you and says, 'I've never told anybody this but my mom used to do this to me and I hated it,'" Zelenek said. "And when that happens, these foster parents will now be able to deal with that without freaking out.
In Utah there are 2,800-plus kids in foster care at any given time, with 1,400 licensed foster and adoptive families across the state. But officials say that number is falling, likely due to the economy, but not necessarily for financial reasons.
"When you do foster care, I feel it's emotionally exhausting," Andrew said. "You're not going to go through any physical pain, labor, but you're going to go through emotional anxiety."
Still, the Flakes have a strong belief that the "right" outcome doesn't always end in the foster family adopting. The first two kids they took on are back with their birth mother and are thriving. They remain close with the Flakes.
In Skyler's case, Sarah and Andrew say he was supposed to end up with them -- his "forever family" as it's called by Utah Foster Care -- and they plan to share the details of his infanthood with him when he's ready.
"We hope he accepts it and doesn't have major emotional issues about it, and if he does we'll take him to therapy. What else do you do?" Sarah said.
Utah Foster Care encourages foster parents to have a relationship with birth parents if possible. The Flakes are slowly working up to meeting with Skyler's birth mom, who voluntarily relinquished her parental rights.
If you're interested in becoming a foster parent, CLICK HERE for more information.
E-mail: sdallof@ksl.com