Recent Stories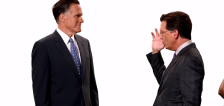 
Josh Furlong | Posted
Aug 3rd - 10:19am
Stephen Colbert is taking over for the now-retired David Letterman later this year, and former Republican presidential nominee Mitt Romney is helping him out with a show promotion.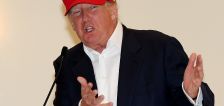 
Jeremy Diamond, CNN | Posted
Aug 3rd - 9:16am
Republican primary voters will get more insight this week into the presidential candidates vying for their party's nomination as the contenders prepare to square off in the first primary debate.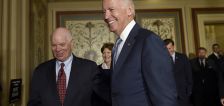 Josh Lederman, Associated Press | Posted
Aug 2nd - 10:20pm
A top political aide to Vice President Joe Biden's late son joined the super PAC working to recruit the elder Biden to run for president on Sunday, lending the group newfound credibility in the midst of fresh signs the vice president's aides are taking a close look at a 2016 campaign.
Jeff Horwitz, Associated Press | Posted
Aug 2nd - 6:22pm
Donald Trump, widely believed to be the wealthiest American ever to run for president, is nowhere among the ranks of the country's most generous citizens, according to an Associated Press review of his financial records and other government filings.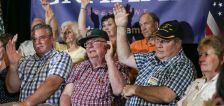 Kathleen Ronayne, Associated Press | Posted
Aug 1st - 5:20pm
Sen. Lindsey Graham says he's confident he can win the Republican presidential primaries in New Hampshire and his home state of South Carolina, two of the first voting states in the nomination contest.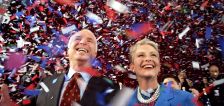 Kathleen Ronayne and Jill Colvin, Associated Press | Posted
Aug 1st - 4:01pm
In the summer of 1999, John McCain didn't have many big names backing his campaign for president. He didn't have much money, either, and even resorted at one point to giving away ice cream to drum up a decent-size crowd.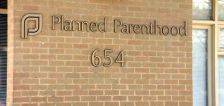 Eugene Scott CNN | Posted
Aug 1st - 12:17pm
A federal judge in California issued a temporary restraining order Friday against the group that has released several undercover videos of Planned Parenthood leaders after it attempted to release secretly-recorded footage of a different abortion group. Sergio Bustos, Associated Press | Posted
Aug 3rd - 8:00am
Republican presidential candidate Jeb Bush is outlining a six-point strategy to bolster security at the nation's border and overhaul its immigration laws. Lisa Lerer, Associated Press | Posted
Aug 2nd - 9:10pm
Hillary Rodham Clinton is spending $2 million airing the first television ads of her presidential race in the early voting states of Iowa and New Hampshire. Julie Bykowicz, Associated Press | Posted
Aug 2nd - 7:31pm
Billionaire industrialist Charles Koch warned America is "done for" if the conservative donors and politicians he gathered at a retreat over the weekend don't rally others to their cause of demanding a smaller, less-intrusive government. Lisa Lerer, Associated Press | Posted
Aug 2nd - 2:01pm
Republican presidential candidate Donald Trump has fired a campaign aide after racially charged Facebook posts surfaced on the aide's account.