Recent Stories

Eric Bradner, CNN | Posted
Aug 3rd - 2:34pm
Businessman Donald Trump is still riding high in a new poll, just days ahead of the much anticipated first GOP presidential primary debate.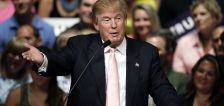 Thomas Beaumont, Associated Press | Posted
Aug 3rd - 2:31pm
Republican presidential candidate Donald Trump's corporate website was the target of a cyberattack Monday, the same day a celebrity gossip website published an old mobile telephone number for the billionaire businessman.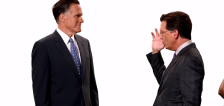 
Josh Furlong | Posted
Aug 3rd - 10:19am
Stephen Colbert is taking over for the now-retired David Letterman later this year, and former Republican presidential nominee Mitt Romney is helping him out with a show promotion.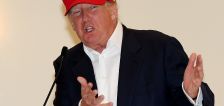 
Jeremy Diamond, CNN | Posted
Aug 3rd - 9:16am
Republican primary voters will get more insight this week into the presidential candidates vying for their party's nomination as the contenders prepare to square off in the first primary debate.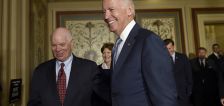 Josh Lederman, Associated Press | Posted
Aug 2nd - 10:20pm
A top political aide to Vice President Joe Biden's late son joined the super PAC working to recruit the elder Biden to run for president on Sunday, lending the group newfound credibility in the midst of fresh signs the vice president's aides are taking a close look at a 2016 campaign. John Hanna, Associated Press | Posted
Aug 3rd - 3:31pm
A Kansas radiologist who lost a hard-fought primary battle to Republican Sen. Pat Roberts said Monday that the state's medical board has dropped an investigation into whether he violated patient privacy by posting X-ray images of severe medical injuries on Facebook. Kathleen Ronayne and Steve Peoples, Associated Press | Posted
Aug 3rd - 3:21pm
The Republican Party's jam-packed presidential class faces off Monday night in New Hampshire, where more than a dozen White House hopefuls aim to warm up for the first full-fledged debate of the primary season. Sergio Bustos and Alicia A. Caldwell, Associated Press | Posted
Aug 3rd - 2:12pm
Jeb Bush outlined plans Monday to improve security of the nation's borders and enforcement of its existing immigration laws, calling both a requirement before any president could begin to address the status of the estimated 11 million people living in the country illegally. Geoff Mulvihill, Associated Press | Posted
Aug 3rd - 12:21pm
More than any single Democrat, New Jersey Gov. Chris Christie's greatest rival has been the biggest teachers union in his home state. The Associated Press | Posted
Aug 3rd - 12:11pm
U.S. Rep Chaka Fattah is vowing to run for re-election next year despite a federal racketeering indictment and says he expects to resume his leadership position on a powerful congressional committee by year's end. Lisa Lerer, Associated Press | Posted
Aug 2nd - 9:10pm
Hillary Rodham Clinton is spending $2 million airing the first television ads of her presidential race in the early voting states of Iowa and New Hampshire.