Head coaches and players from the BYU and Florida basketball teams hit the practice floor and met the media Wednesday in New Orleans, a day before the Cougars and Gators are to meet in the Sweet 16's Southeast Regional Semifinals.
You can hear all of the audio from the media sessions by clicking on the respective "play" buttons in the "Cougar Cuts" box below.
*******
The only newsworthy note to come out of the afternoon press conferences was an update on the heath status of Florida shooting guard Kenny Boynton, who sprained an ankle in the Gators' Saturday win over UCLA.
Head coach Billy Donovan said Boynton "was in a position to practice yesterday, and the trainer wanted to hold him out and rest him another day. He went through practice yesterday without any contact..today he was 'full go,' he was in full contact. He appeared to be moving well...has not given me any indication he's having any issues or problems with his ankle."
About Boynton, BYU head coach Dave Rose said "we all believe that Kenny will play, and how effective he is will be the issue. But he is not only a great basketball player, but he's a terrific defender. So we'll see if that's the match-up (with Fredette)."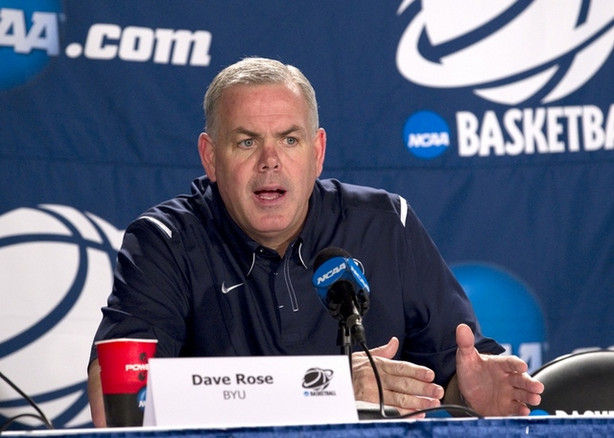 "Kind of the way that our team has played the last two months or so is that first four minutes of the game is let's see what they're going to do, let's see how they're going to start, let's see what they'll do with Jimmer's ball screens."
"If they're going to come off that ball screen and just trap him and make him get the ball out of his hands, then we're going to be playing with an advantage the whole night because we'll have four offensive players attacking three defensive players. And if they're going to go underneath that thing, then Jimmer is probably going to get a couple shots off. So we all know, the whole team understands what the first few minutes are."
*******
Rose has the Cougars in a Sweet 16 for the first time in 30 years, having guided BYU to two wins last week in Denver.
"I think that our players have done a really good job the last couple days in kind of putting the excitement behind them and focusing on our preparation," said Rose. "I've said this many times, that I think this team thrives on preparation."
*******
BYU and Florida are meeting a year after facing off in the NCAA Tournament's First Round, with BYU having won the 2010 meeting in double overtime. Asked which team "has taken a greater stride since last year's game," Rose said "I think both teams have improved."
"I think that both they're more comfortable in how they're going to close out games," Rose said about the Gators. "That's the thing that impresses me the most about Florida is their ability late in games to get good shots from the players that are capable of making their shots."
"It's not like they're trying to just hope their way into a basket to win. And then defensively I think that they're a lot more engaged in their defensive game plan as a group. So they're not looking for as many individual plays to try to finish out games."
*******
Asked about Fredette's teammates "backing him up" if he has an "off night," this was Jackson Emery's response:
"I haven't seen Jimmer have an off-night yet really this year. I guess you can consider it an off-night if he doesn't score 30 or more."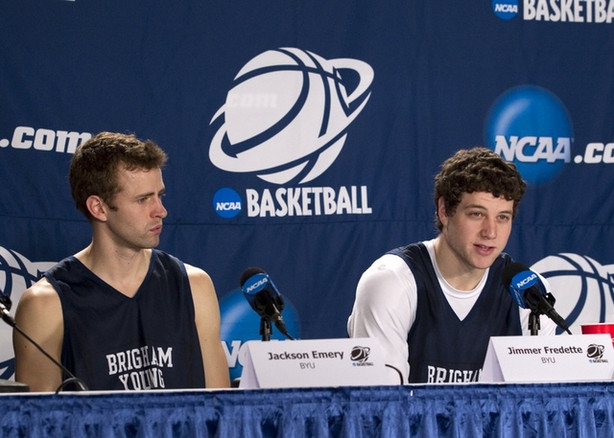 Fredette himself was asked if it will be more important in New Orleans to be a better passer or a better scorer:
"Whatever the defense is giving me; I'll be a willing passer if they're going to double-team me and try to take away my scoring, and then my teammates are going to go out and make plays," said Fredette. "But if they're kind of single covering me and I see opportunities to score that's what I'll do. So it's going to be important to really just distinguish between the two on every single play, whatever they're giving you, you take that, and hopefully we can work out."
*******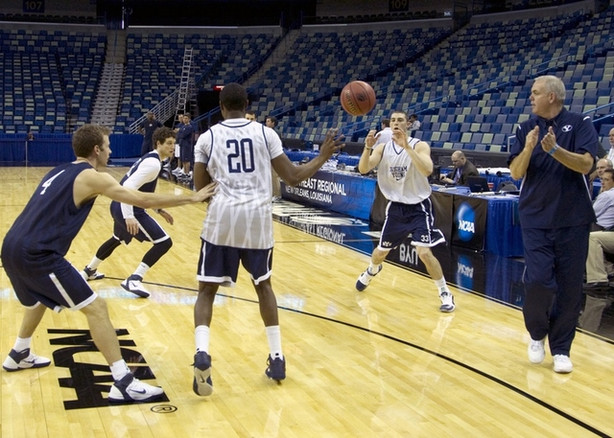 Florida players Vernon Macklin, Chandler Parsons and Alex Tyus were all asked about the challenge of facing Fredette, and here are the takes of all three players--
Macklin: "Jimmer played well and the rest of the guys played well (in last year's game). I think we're just going to try to go out there and play defense because it's a great team, it's not just him, there's four other guys on the floor and they way well around him. We're going to put that game in the past and play Thursday."
Parsons: "We had so many careless turnovers where it led to easy baskets for them. People always underestimate everyone on their team. And I think we've got a good understanding going in there how good they are from playing them last year. And it's just not Jimmer Fredette, the other guys are very good players and they understand their role, and they don't get a lot of credit, but we're not just focused on Jimmer, we're focused on their entire team."
Tyus: "I think that a lot of people lose sight of how good the other guys are playing off of Jimmer, and I feel like the key to doing a good job on them is to stop the other guys, too."
*******
Fredette has in the past talked about his relationship with Parsons, and Parsons was asked about it this afternoon in New Orleans:
"He's a really good kid," said Parsons. "I've known him since 15 years old and we played against them in AAU. He played on Albany City Rocks with Talor Battle and Mark Lyons. And I played on the team for us and we were always going at it in the AAU circuit."
"This (past) summer he was at LeBron camp with me and Vernon (Macklin). I think he's a really good player. He's just a really good player, he's tough, he's smart, he's got crazy range on his jump shot, and I just think when you're guarding him you can't let him get a lot of easy baskets, not give him any easy looks and really just try to contain him because he's been doing this all year long basically for the last two years against everybody, so he's a great player and a great scorer, so we've just got to do our best to try to contain him."
*******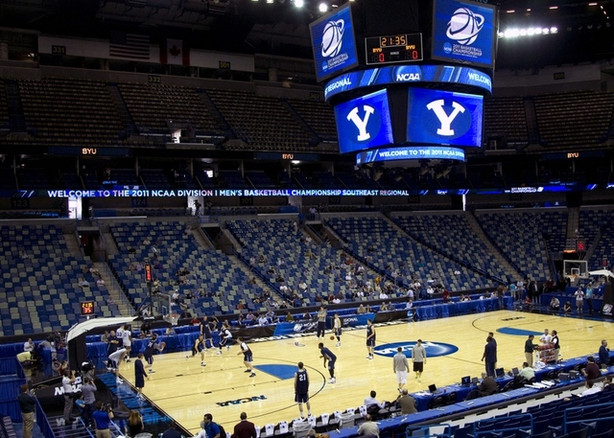 Donovan talked at length about Fredette. Some of his remarks:
"I've always admired his work ethic and I've admired his love and passion for the game. He's a better player this year than he was a year ago. And I think it's so hard for young people when they have a high level of success, individual success and team success, to be able to come back the next year and understand the importance of what the off season means in terms of his improvement."
"Just hearing the story about his brother and the drive between those two and how he's pushed him and just his focus and his commitment, I mean, I've got great respect and admiration, and I think he's a great story for a lot of young kids for all the right reasons because here's a kid that really put the time and the work in, and I think the one thing you can say about him is every year he's been in college he's gotten better."
"Like any great shooter, he's probably taken thousands and thousands of shots, and he's got great confidence and belief in himself. I think a lot of it has to do with the coaching staff and with Coach Rose, having that kind of confidence in him. I think as a young player you need a coach to give you confidence as a shooter."
"I think the other thing is, he's got the ability. You know, there's certain guys that have an ability to put the ball in the basket, and he's got the ability to put the ball in the basket in a lot of different ways: runners, off balance shots, fadeaways, post up, drives to the basket, deep, deep threes. He has a knack for putting the ball in the basket, and he can do it at a very, very high level."
"And I'd say the other part of him that nobody talks about is I think he's a terrific passer. He's the kind of guy that can get eight, nine, ten assists in a game because he's playing with good players...and he gets those other guys great looks. He's really a complete player."
"He is drastically better now (than he was in last year's meeting). That's the thing that's impressive is that he's a better player now...just watch him, he's stronger, certainly he's seen every possible imaginable defense against him, he's seen box and ones, triangle twos, trapping him, running at him, he's seen it all. So there's nothing he hasn't seen up to this point in time. But he's better."
*******
All accompanying photos courtesy Mark Philbrick and Jaren Wilkey/BYU Photo
*******