A cool, hazy day greeted the Cougars, who were in "shells" (helmets/shoulder pads) for the morning session on the final day of two-a-days in Provo.
The first "team" session focused on third-down attempts of varying distances; head coach Bronco Mendenhall says the defense specifically requested some third-down scenarios. The offense struggled to convert; I had the offense unofficially one or two for ten as Riley Nelson (ones v. ones) and then Jake Heaps (twos v. twos) each got five snaps.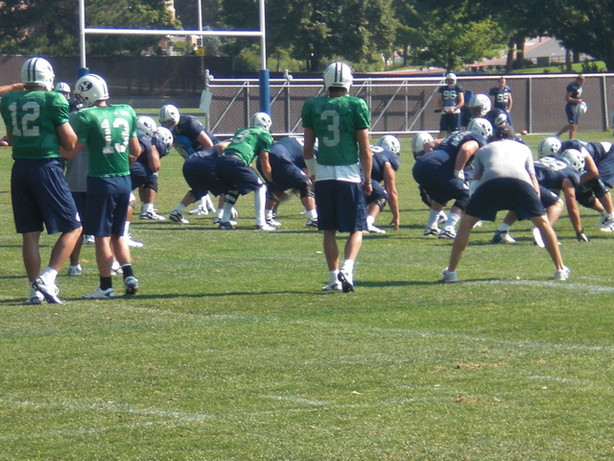 *******
The team concluded practice with four 11-on-11 full-field series--
Series 1: Riley Nelson (ones v. ones)
Three-and-out; Eathyn Manulaeuna with a sack on third down, PUNT.
--
Series 2: Jake Heaps (twos v. twos)
Nine plays; drive ending on a "Juice" Quezada 2-yard TD run. Key play: Heaps to Rhen Brown for 27 yards on an intermediate slant.
--
Series 3: Jake Heaps (ones v. ones)
Four plays; after J.J. DiLuigi gains 15 yards on a sideline spinerama, drive fizzles, PUNT.
--
Series 4: Riley Nelson (twos v. twos)
Nine plays; drive ends as Nelson overshoots Quezada on a 3rd and 9 with "Juice" open in the left flat, 41 yd Riley Stephenson FG is good. Key plays: consecutive completions to R. Brown (15 yds) and Matt Edwards (16 yds).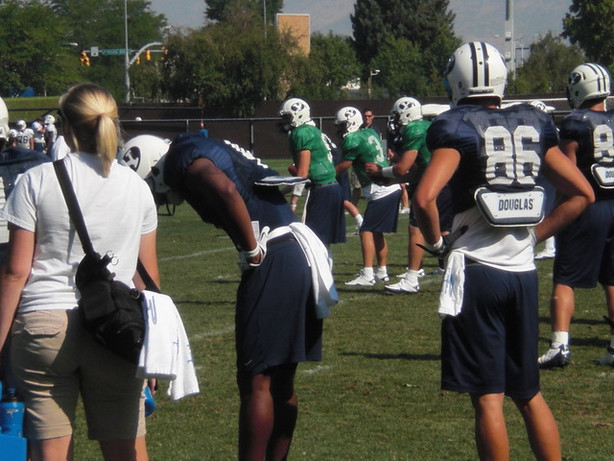 --
Manumaleuna had the only "whistle" sack in the practice-ending segment; Vic So'oto and Jadon Wagner had sacks in the third-down segment. So'oto has been the most consistently disruptive player from the BYU D-line.
*******
QB Stats--
Heaps: 7/7 (including a pass deflected to an offensive lineman), 62 yds
Nelson: 4/6, 40 yds; 4 rushes, 21 yds
Receiver stats--
R. Brown: 2 rec, 42 yds.
*******
With only a couple of days left in camp, the linebacker rotation remains among the most interesting issues to be decided.
Assuming Jordan Pendleton will be good-to-go on gameday (after being held out of "live" reps almost every day of camp), the strongside will be manned by Pendleton, backed up by projected starting WLB Jameson Frazier. If and when Frazier flips to SLB, Kyle Van Noy becomes the guy at weakside, and he has looked good there throughout camp.
Since it now appears increasingly likely that WLB Jordan Atkinson (shoulder) will not be a factor, BYU is looking to shore up the outside spots. After Pendleton, Frazier and Van Noy, you are then looking at players like Jadon Wagner (WLB) and Zeke Mendenhall (SLB) to emerge a options. Freshman Sae Tautu would be considered a wild-card; same goes for Alani Fua, who would appear to need a year to add some bulk.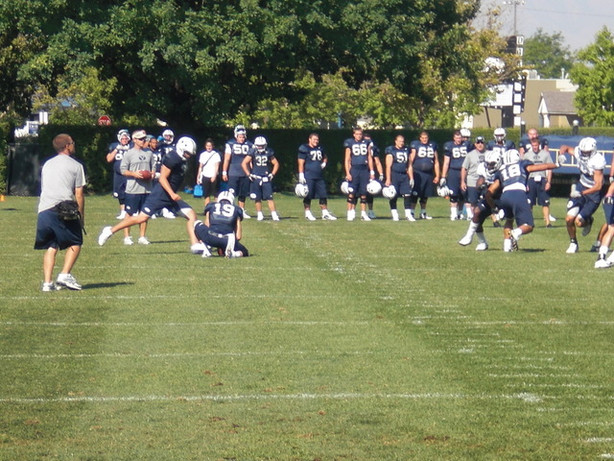 *******
There are five scholarship linebackers fighting for spots in the two-deep rotation, with Shane Hunter (MLB), Aveni Leung-Wai (BLB), Zac Stout (MLB), Brandon Ogletree (BLB/MLB) and Austen Jorgensen (BLB/MLB) battling into the final week of camp.
My post-practice interview with ILB coach Paul Tidwell breaks down the competition, with Tidwell noting that A.J. Van Valkenburg is currently the #6 backer in a projected three-deep.
Interviews with Tidwell and head coach Bronco Mendenhall are located in today's "Cougar Cuts" box, above.
*******
By the way, it was good to see Ogletree (hand/elbow hyperextension) finally get in and take some more live snaps. He has had a quiet camp
Wagner missed almost the first two weeks of camp with a knee injury; now that he's playing again, he appears intent on earning reps.
*******
More on Atkinson: after offseason surgery on his injured right shoulder, the senior linebacker has never quite gotten back to playing form, and the shoulder remains sore. He has not yet gone "live" in camp, and the training staff will re-evaluate with an MRI; additional surgery could be a possibility.
ILB Austen Jorgensen left practice today with a sore shoulder, while WR Spencer Hafoka did not play today (sick).
*******
RB Drew Phillips was back practicing after a quad contusion suffered last week.
Players out today with prior injuries were:
TE Mike Muehlmann (shoulder)
TE Bryan Sampson (hamstring)
RB Algernon Brown (ankle)
RB David Foote (hamstring)
WR Cody Hoffman (hamstring)
DL Garrett Eskelsen (shoulder)
CB Robbie Buckner (hand)
S Cole Herrmann (knee)
LB Matt Santos (ankle)
*******
The top two offensive line units have taken shape.
#1 OL
LT: Matt Reynolds (RT w/ Nelson)
LG: Braden Hansen
C: Terence Brown
RG: Jason Speredon OR Nick Alletto (edge to Speredon)
RT: Braden Brown (LT w/ Nelson)
--
#2 OL
LT: Walter Kahaiali'i (also RT)
LG: Ryan Freeman
C: Houston Reynolds
RG: Marco Thorson
RT Jordan Black (also LT)
--
*******
Day 14 Depth Chart
OFFENSE
QB: Jake Heaps OR Riley Nelson
TB: J.J. DiLuigi, Josh Quezada
FB: Zed Mendenhall, Algernon Brown
Combo: Bryan Kariya, Mike Hague
TE: Richard Wilson OR Devin Mahina OR Austin Holt OR Marcu Mathews (Mike Muehlmann injured)
WR-H: McKay Jacobson, Matt Marshall
WR-Z: Luke Ashworth, Ross Apo OR Rhen Brown
WR-X: O'Neill Chambers, Cody Hoffman (DNP), Spencer Hafoka (DNP)
LT: Matt Reynolds (also RT for Nelson), Walter Kahaiali'i (also RT)
LG: Braden Hansen, Ryan Freeman
C: Terence Brown, Houston Reynolds
RG: Jason Speredon OR Nick Alletto, Marco Thorson
RT: Braden Brown (also LT for Nelson), Jordan Black (also LT)
--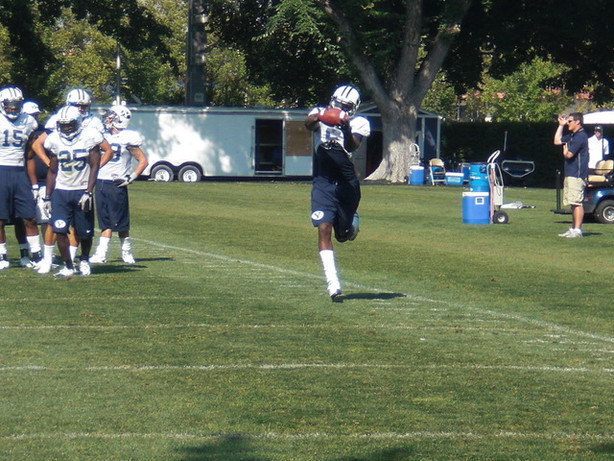 DEFENSE
LE: Eathyn Manumaleuna, Matt Putnam, Graham Rowley
NT: Romney Fuga, Jordan Richardson, Travis Tuiloma
RE: Vic So'oto, Thomas Bryson, Matt Peterson
SLB: Jordan Pendleton (not "live"), Jameson Frazier (also WLB), Zeke Mendenhall
MLB: Shane Hunter, Zac Stout, A.J. Van Valkenburg
BLB: Brandon Ogletree OR Aveni Leung-Wai OR Austen Jorgensen
WLB: Jameson Frazier (also SLB), Kyle Van Noy, Jadon Wagner
FC: Brian Logan, DeQuan Everett (Robbie Buckner injured)
BC: Brandon Bradley, Corby Eason
Kat: Andrew Rich, Jray Galea'i
FS: Steve Thomas, Travis Uale
--
J.D. Falslev remains the #1 punt returner; J.J. DiLuigi and O'Neill Chambers are the #1 kickoff return duo, with Falslev and Ross Apo getting most of the #2 looks.
*******
More from Mendenhall--
On this morning's practice: "Not as much energy and excitement to play; maybe the execution was half a notch higher than it has been. (Energy) kind of 'flat-lined,' just a workmanlike day."
The coach added that BYU will scrimmage on Wednesday with a "young player emphasis," holding out "maybe even a few more" first-teamers than were kept out of last Saturday's stadium scrimmage.
On Thursday, Mendenhall plans to hold a light "Monday"-style practice, giving his team a "first exposure" to the Washington Huskies.
*******
Don't forget to check out the NEW BYU sports web page: byu.ksl.com
On the "BYU Football with Head Coach Bronco Mendenhall" page, you can request seats at an upcoming live radio show broadcast, and submit questions for the coach to answer during the show.
Response on the seat request link has been steady since the link opened last Friday; seats are probably filled for the first three shows of the season already. If you don't get in for the September 1st show, you will get to choose from remaining broadcast dates; Sept. 8th, 15th, etc.
*******
Follow me on Twitter: twitter.com/gregwrubell
We hit 1,500+ followers less than six weeks after launching the @gregwrubell Twitter feed; thanks again, Cougar fans!
*******
August 2010 will be a record month for "Cougar Tracks" page views; thanks for making the "Tracks" a part of your day!
*******
Photos