11th Hour Tactics in Closely Watched Election Races
November 5, 2006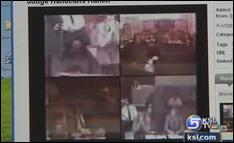 John Hollenhorst reporting
Some 11th hour tactics are unfolding in a couple of closely watched election races.
One was a defense of a controversial judge. The other showed Republicans trying to get back on the offensive in the race for Salt Lake County Sheriff.
In a way these are both typical last-minute moves in the political arena. One is a show of support for the judge by prominent citizens. The other was either a disturbing revelation in the sheriff's race, or-- depending on who you ask-- a desperate distortion from the side that's behind in the polls.
Judge Leslie Lewis has been under fierce attack in recent weeks. Disgruntled people who appeared before her have released courtroom videos and set up a website. They claim she has a poor judicial temperament. She's also under attack for allegedly reducing a felon's sentence improperly.
But in the Sunday papers, a big newspaper ad appeared in defense of Judge Lewis, signed by forty lawyers, some prominent.
Greg Skordas, Attorney: "On the whole this is a fair judge who's respected by lawyers, who jurors love, who police officers adore and who's done a great job."
Meanwhile, a new twist in the lively sheriff's race between incumbent Aaron Kennard and Democratic challenger Jim Winder. The Salt Lake County Republican Chairman made the rounds to news organizations with a video he calls revealing and disturbing. It shows Winder training deputies on law enforcement tactics.
The DVD is heavily edited from hours of training videos, 20 short disconnected clips totaling less than four minutes. We can't verify the meaning of each clip, but the Republicans say one clip shows a disturbing side to Winder's personality.
Jim Winder, Sheriff's Office Training Video: "I want to be a hero so I come in from the south side because I want to get there quicker than anybody else so I can give an ass-kicking or maybe shoot some guy if I'm really lucky."
James Evans, chairman, Salt Lake County Republican Party: "Well you're talking about a training video for new recruits. Is that the kind of message you want to send to new recruits, is that it's o.k. if you can get to the scene first and physically harm someone or actually shoot them and get away with it?"
Winder says the clips are out of context and he was actually role-playing.
Jim Winder, Sheriff's Office Training Video: "Oftentimes when one is training officers one uses negative stereotypes to demonstrate what should not occur."
Winder says it's a desperate political ploy, mounted at the last-minute by surrogates for his opponent.
Evans won't say who gave him the video, but says he's never spoken with Sheriff Kennard about it. He argues that the video raises legitimate issues. If so, there isn't much time left to debate them.