Presidential Candidate Mitt Romney Speaks on Several Issues
April 12, 2007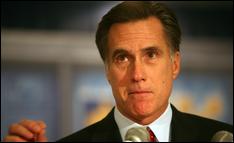 Greg Neft, KSL Newsradio
Presidential Candidate Mitt Romney spoke with KSL's The Doug Wright Show this morning about some of his ideas.
If he were to win, Romney says one of his top priorities would be terrorism.
"Global jihad by radical violent Islam is the greatest threat," said Romney.
But that's followed close behind by domestic issues like immigration, for which he has two solutions.
"First, is securing the border. And the second is having an employment verification system," he continued.
KSL's Doug Wright then asked the former Massachusetts governor who he sees as other standouts in the candidate's field.
"I'm wondering whether Borack Obama might make a little more progress than I was giving him credit for," Romney said.
Romney says both he and Obama are casting themselves as agents of change.