SOUTHWESTERN UTAH -- You may think there's not much to see in Utah's west desert, but actually it's a great place to find stones, gems and fossils. People come from all over the world to "rockhound" here, as we found out during our "Great Escape" to find the best things to do in Utah.
Millions of years ago volcanoes covered parts of the west desert. Chemicals in the lava left behind minerals. Larry Garahana, a geologist with the Bureau of Land Management, said, "The west part of Utah is very mineralized and so there's lots of stuff that can be found out here."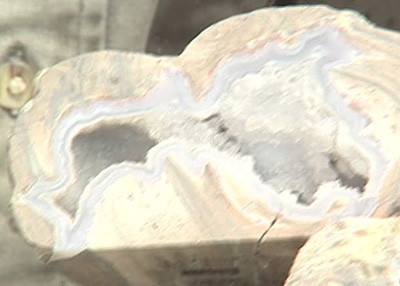 Rockhounder Ron Emmett says he's found garnet, topaz and geodes in the west desert. The geodes are found in the Dugway Geode Beds, in the north end of Juab County.
"These were a gas bubble in a volcanic rock," Garahana explained. As they filled with water, beautiful layers formed inside. Rockhounders hit the geodes to find what's inside.
"It's like opening Christmas presents because you don't know what you're going to find when you open it up and see what's inside," Cherri Emmett said.
Just to the south, in the Thomas mountain range, numerous stones are found, including topaz and a black mineral called bixbyite. The same mountain range also hides amethyst -- which is harder to find -- several colors of garnet, and red baryl, which look like a ruby.
Fossil finds
If you're into fossils, Antelope Spring in Millard County is a great area to uncover trilobites, an invertebrate that roamed the sea floor millions of years ago.
"They're 550-million years old, so they're very old. Like, much older than a dinosaur," said Shayne Crapo, owner of U-Dig Fossils.
Related:
About 50 miles west of Delta, the company excavates the rock on its land, leaving behind higher quality pieces for people to find.
"The people who come out to dig will have the best chances of finding trilobites," Crapo said. "We give them a hammer and a bucket, bring them out here and they go to work."
Rita Garcia was digging for trilobite fossils while we were there. "It's work, but it's so fun. When you find even a piece, you're so excited. It's just such a good time. It's kind of like finding buried treasure, except this is even older!"
Brent Ritchie was digging with his son. "His favorite thing is to fish, and he's having as much fun as fishing doing this."
So how easy is it? "You just start hitting it, and then you can open up and look," Crapo told us.
U-Dig Fees
Kids Under 6 -- Free w/Adult
Kids 7-16 -- $16-42
Adults -- $28-70
25% Discount for KSL Viewers
A few minutes later, I found a fossil. The trickier part was getting the trilobite out without breaking it. It was not too big, but pretty satisfying when you dig out a fossil yourself!
To get started on rockhounding, you can check out library books to figure out where to go, or get maps from the Department of Natural Resources or BLM.
U-Digg charges a fee to look for fossils. The amount depends on the length of time you spend. Customers who mention seeing them on the KSL morning show will get 25 percent off.
E-mail: tpapanikolas@ksl.com
Related Links
Related Stories
0 Pending Comments
Sorry, we are not accepting new comments on this story, but if you have more to contribute please email
newstip@ksl.com
Showing of 8 comments
Sorry, we are not accepting new comments on this story, but if you have more to contribute please email
newstip@ksl.com