Carole Mikita Reporting
Humanitarian aid has grown in size and scope for The Church of Jesus Christ of Latter-day Saints, especially in the last five years. The idea of helping those in need of all faiths goes beyond emergency relief.
The LDS church joins with non-government agencies like the Red Cross, Catholic Social Services and Islamic Relief Worldwide with one goal, to improve lives. One of its four humanitarian initiatives is the wheelchair program.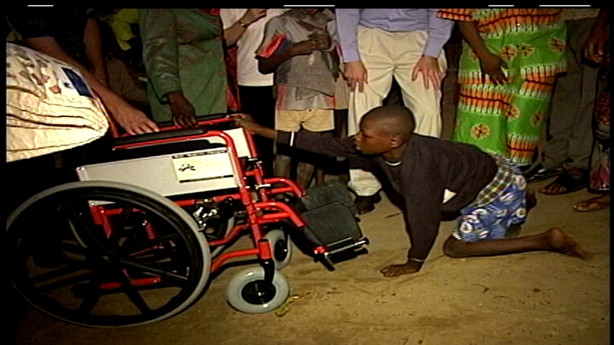 For millions around the world, a wheelchair changes a life. Many in developing nations crawl, scoot or pull themselves along the ground all of their lives. They cannot go to school, no business would hire them.
Gary Winters, Director, LDS Church Wheelchair Initiative: "A wheelchair is a great blessing to so many people. Take, for example, a child in, let's say, the Philippines, that has never had the opportunity to go to school because one of the parents or one of the siblings have to carry them everywhere they go. Once they receive a wheelchair, it opens up doors, it blesses lives. They're able to go to school, able to go outside and see friends."
Leaders of The Church of Jesus Christ of Latter-day Saints decided this kind of donation improves an entire community. For five years church employees have worked with manufacturers in China and India. After the chairs are made, the church works with organizations that help the disabled to ship and distribute them in nearly 100 countries.
By the end of 2006, more than 150,000 people will receive wheelchairs. Immediately, people with disabilities are freed from being hidden away.
Maria Perez lives in a poor neighborhood of Guayaquil, Ecuador. She was diagnosed with thrombosis twenty years ago, a blood clot in the circulatory system. The entire right side of her body hurts and, she says, feels as if it is dead. She's now seventy years old and is grateful for the donated wheelchair. Her family would carry her to church every Sunday.
Maria Perez Castro, Wheelchair Recipient: "I was so happy when the wheelchair arrived. I am a poor woman and don't have enough money to go buy one. It was a great surprise."
A documentary this weekend will focus on more about this program and other LDS Humanitarian Aid. The special is titled "Mission of Miracles" and will air this Sunday at noon on KSL 5. General Conference will also be broadcast on Channel 5 at 10am and 2pm both Saturday and Sunday.