Ed Yeates Reporting
Maliyah Herrin is doing better today, after a procedure earlier this week to clean her wounds. Her twin sister Kendra is well enough to take wagon rides!
The girls slept in separate rooms last night for the first time since their separation surgery. The Herrin family says that's so Maliyah can get a good night's sleep to recover from Monday's operation.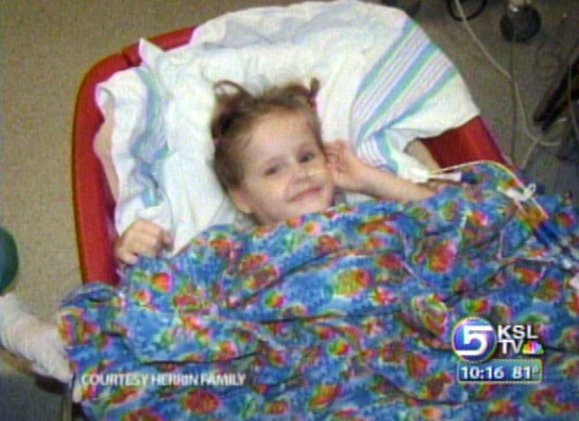 Once Kendra and Maliyah Herrin leave pediatric intensive care, social workers and play therapists will be watching for cues from the girls to see how they're healing psychologically. Some of that rehab is already underway.
Primary Children's support team is learning right now just from the simple things Maliyah and Kendra do or don't do. Those cues will become more evident when the girls leave Intensive Care, and later when they go home.
Katy Stevens, Director of Medical Social Work, P.C.M.C.: "These girls are only four, but they're extremely bright and they're very connected, and sometimes we find out what's going on with one by the reaction of the other."
Katy Stevens, who heads up medical social work at Primary, says it's important to understand how the girls are adjusting psychologically to their separation.
Katy Stevens: "How comfortable are they being apart? Of course we want to encourage them to be independent. We also want to respect the fact they haven't been independent."
Again, it's the little things. Kendra takes a wagon ride, then comes back again. Down the road, as the girls maneuver more, learning how to distribute weight on their own bodies.
Katy Stevens: "What's it going to be like if one of you goes somewhere, one of you doesn't? How can you still communicate with each other? How can you still maintain the closeness that you had without being conjoined."
Body language, verbal cues, play patterns - all these come into play once the girls leave ICU. A doll in a medical gown, building blocks, play doh can help. For example, the girls may want to mold something then crush it. Play therapists say that cue is okay since it may be their way of expressing agitation or frustration.
Down the road, brothers and sisters have always played with Maliyah and Kendra at home as one. Now they'll have to share that time with both. And for Kendra and Maliyah?
Katy Stevens: "If they had something, they were both kind of playing with it. Now they'll have separate space and separate things. Their whole dynamics will be different."
Katy Stevens says Kendra and Maliyah's twin brothers will serve as sort of a model of what separation is all about.
Katy Stevens: "I have no worries about this family. They're very strong, very well connected."
Stevens says Primary's support team is learning a lot from the girls and they'll tell the team when they're ready for the next level of healing.
Related Links