HERRIMAN -- Some Utah homebuilders have brought a piece of movie magic to reality in Herriman.
A home designed to look like the one from the movie "Up" is drawing a lot of attention -- even from the folks at Disney.
The house really stands out in this neighborhood, located at 13215 S. 5390 West in Herriman, painted with all the bright colors from the movie.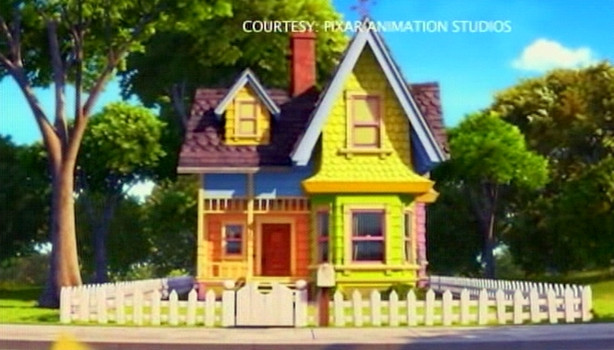 If you've seen "Up," you know the house plays a very key role in the film -- which is what grabbed the attention of the homebuilders. So they decided to build it, with a special vision in mind.
"The movie kind of captured the idea that a house is a place where you live and you grow up and you live your life," said builder Blair Bangerter. "We've tried to take this movie and bring it to life in a real home."
The house is still a work in progress, but it's getting close. With the outside of the home finished, it's already attracting dozens of tourists each day.
Bangerter and his team of subcontractors went to great lengths to make this replica as authentic as possible. The garden hose reel, the front door, the custom mailbox, even the weather vane are all recreated in full.

Tour the 'Up' house
You can tour the special 'Up' house during the Salt Lake Parade of Homes.
Click here
for tickets.
"Almost every detail is going to be found here," Bangerter said. "There was a little kid here the other day, and he said, 'Hey, there's no light above the front door,' and I said, 'The heck there isn't! How many times have you watched the movie?'"
The folks at Bangerter Homes got the project approved by Disney. Once finished, it will become part of the Salt Lake area Parade of Homes. On the weekends, builders even add balloons to create the full effect.
"They're pretty expensive because you have to put a whole bunch of them up," Bangerter said.
But not too many -- it is, after all, just a home. And that's what the builders want. Special project aside, they hope the end result will be fairly simple.
"We are kind of romanced with the idea that this is a house. Someone will live here, like they're supposed to." Bangerter said.
Crews are still finishing the inside. They will fill it with custom-made furniture as seen in the movie. They did take a few liberties, however, like adding some extra space and a basement.
The total space of the home is about 2,800-square feet. The builders hope to sell it at just under $400,000, which would just about allow them to break even on all the building costs.
Email: manderson@ksl.com
Photos
Related Links
0 Pending Comments
Sorry, we are not accepting new comments on this story, but if you have more to contribute please email
newstip@ksl.com
Showing of 32 comments
Sorry, we are not accepting new comments on this story, but if you have more to contribute please email
newstip@ksl.com