SANDY — Juniors at Alta High were supposed to exhibit class pride by dressing in white and attending a spirit bowl last week. But one student allegedly donned an unwelcome accessory — a white, pointed hood.
Complete with holes for eyes, it was unmistakable the hood was meant to resemble the Ku Klux Klan's infamous symbol, students say.
"It was completely recognizable," said Taylor Risk, a student at the school.
When Larz Cosby was approached by the student, he couldn't help but get involved, he said.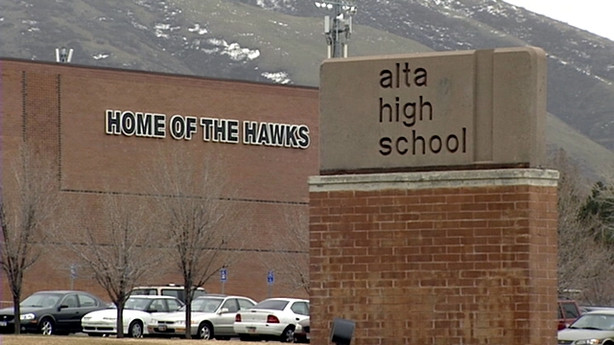 "I took the hood off, and I threw it behind me," he said. "I didn't know how to respond to that."
The multi-ethnic junior has known for years some of his classmates find racial jokes funny, but the incident prompted him to take a stand.
Larz started a blog, LarzCosby.wordpress.com, on Friday, asking "How is it a joke? How is that funny?"
The stunt took place on the sidelines of the rally and wasn't a part of an official skit. Larz spoke with an administrator shortly after the assembly.
"He didn't know things like that were going on at Alta," Larz said. "I do."
Taylor said he was disgusted by the display. He said he knows a lot of teenagers don't understand the reality of racism so they make flippant comments.
"There's an atmosphere of racism as a joke," Taylor said. "I think it's ridiculous. It's something that needs to stop. ... It's not funny at all, it's racist."
District officials are concerned about the reports they're hearing, said Canyons District spokeswoman Jennifer Toomer-Cook.
"We are taking these allegations very seriously," she said. "The superintendent called for an immediate investigation."
---
I know what the KKK stood for. ... That's a disgrace to anyone, of all races and all colors.
–Larz Cosby, Alta High student
---
The district's office of civil rights is looking into it, and based on the evidence it finds will come up with a course of action that could potentially include discipline for the student who allegedly donned the hood.
Larz said he'll be satisfied so long as the student is taught that that kind of behavior is wrong and hurtful.
"I can't really say what will show him that these things are wrong," he said.
Larz is learning all about the historical implications racism has had internationally and he said treating the serious subject lightheartedly isn't right.
"I'm taking (Advanced Placement) U.S. history, so I know what the KKK stood for. ... That's a disgrace to anyone, of all races and all colors," he said.
The student's blog post has received dozens of comments — some supportive and some saying he needs to lighten up. He said he knew some students were talking about it at school on Monday, but he plans to continue writing regardless of what others say.
"I'm glad that I have enough courage and self-respect to be able to spread my word," he said. "I can stick it out, easily. This is nothing."
-----
Story written by Molly Farmer with contributions from Richard Piatt.
Related Links
0 Pending Comments
Sorry, we are not accepting new comments on this story, but if you have more to contribute please email
newstip@ksl.com
Showing of 0 comments