SALT LAKE CITY — In the rush of the morning it can seem an insurmountable task to try and feed all of those little mouths something healthy — it's enough to make sure they get any food at all! But with a little thinking ahead, it can be done.
Here are a eight ideas that will help get some healthy, quick breakfasts on the table:
1. Quick oatmeal with fruit and nuts
Instead of using already-sweetened instant oatmeal packets, use minute oatmeal (which only takes one minute of boiling) or old-fashioned oats (which can even be cooked in the microwave). Before you put on the water, cut up some fruit like diced apples or bananas or use dried fruit — like raisins, Craisins or dried apricots — and throw them in the water while it's heating, then add some nuts when the oatmeal's done. In a matter of minutes, you've got a healthy, filling meal. Also, try adding cinnamon. It adds flavor and reduces the amount of sugar your kids may want in their oatmeal.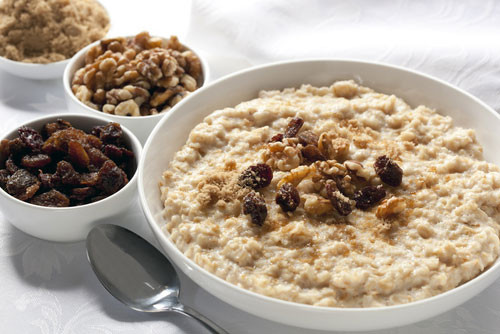 2. Peanut butter toast with applesauce
Use whole wheat bread to add fiber, then top it with some peanut butter for protein. Pour applesauce with cinnamon in a bowl, and give your child a cup of milk. You've got a balanced meal, and all you had to do was wait for the toaster.
3. Simplified breakfast burrito
Scramble some eggs and put them in a whole wheat tortilla with shredded cheese and salsa — simple and very fun. These simplified breakfast burritos are also a great meal to take and run out the door: just wrap it in some aluminum foil, and your kids can eat in the car.
4. Fruit smoothie and toast
For a basic smoothie, you only need yogurt, frozen fruit and a banana, but you can also add a bunch of nutrients and your kids will never know. Toss in some baby carrots, spinach (although this turns the smoothie green), celery, cauliflower, etc., and you can even add some protein powder. Put it all together with a slice of whole wheat toast and you've got a yummy balanced meal.
5. Leftover pancakes or waffles with peanut butter
Think pancakes aren't fast? Well, just think ahead and it's easy. When you make pancakes or waffles (say, on a nice, slow weekend morning) make sure to make extras and pop them in the freezer. Then, when you need them, grab them out, pop them in the toaster, spread with peanut butter, and you've got it made.(Better yet, make sure to make them whole wheat pancakes/waffles for added nutrition.)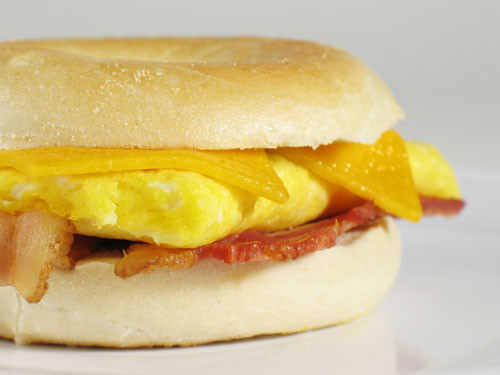 6. Instant breakfast drinks
There are a lot of instant breakfast drinks that are full of nutrients and easy to mix up and take on-the-go. They're perfect for your teenagers who barely make it out the door with their clothes on.
7. Muffins
Like pancakes and waffles, you can make a bunch ahead of time and pop them in the freezer. When you need them, put them in the microwave for 10 or so seconds per muffin. Serve with fruit to round out the meal.
8. Egg sandwich
Buy some whole wheat bagel thins or other whole wheat bread. Fry an egg, top with cheese and sliced ham, and you've got a quick little sandwich the kids will love.
With a little planning, feeding the kids something healthy in the mornings doesn't have to be difficult — and it can all taste good, too! Now you can breathe a little easier in the mornings... Well, maybe not, but at least you can know the kids left with something more than Cocoa Puffs in their stomachs.
Related Links
0 Pending Comments
Sorry, we are not accepting new comments on this story, but if you have more to contribute please email
newstip@ksl.com
Showing of 4 comments
Sorry, we are not accepting new comments on this story, but if you have more to contribute please email
newstip@ksl.com