PROVO — Suddenly, the four-match unbeaten streak to start the season seems so long ago.
Ryosuke Kinoshito and Leigh Viedman each scored a goal in either half, and the BYU men's soccer team took its second-straight defeat with a 2-1 loss to the Colorado's FC Boulder on Friday night at BYU's South Field.
The Cougars, who went 3-0-1 in the first month of the season, have lost back-to-back matches after last week's 1-0 loss to Colorado Rapids U-23. BYU (3-2-2) haven't won a game since a 2-1 win over Albuquerque on June 3.
"We had opportunities to win, and we had opportunities to lose. The ones to win, we didn't produce. The ones to lose, we allowed," BYU coach Brandon Gilliam said. "We could've easily prevented two goals and scored 3-4; we didn't do either one."
Kinoshito squared a shot around a backpedaling BYU defense, scoring with a shot inside the far post that gave Boulder (3-3-2) a lead 32 minutes into the game. Viedman doubled the advantage in the 80th minute for Boulder, but Christian Tobler pulled one back in the first minute of stoppage time for BYU.
Josh Hunter had BYU's best chance of the half, cruising down the right wing on a counter attack before his shot from the edge of the six-yard box sailed just past the far post as Boulder outshot the home side 8-4 with five shots on target.
BYU put up three shots in the first 15 minutes of the second half, but couldn't convert — including one on Connor Fordham's penalty kick in the 59th minute that Boulder goalkeeper Jorge Becerra saved near the right corner.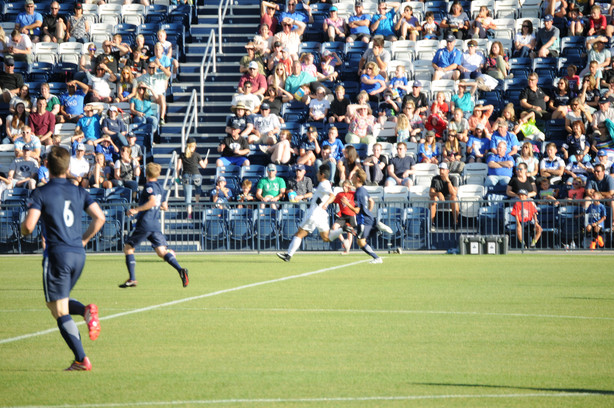 "If you have a PK that gets blocked, it's a great save by the goalkeeper. But that could've put us at 1-1 with control of the game, and it's a different outcome," Gilliam said. "If you don't put one away, that's what you are looking at: getting countered.
"There were plenty of opportunities to win this game, and we just didn't take them."
Viedman doubled the advantage with 10 minutes remaining in regulation, striking on a counter attack that finished with the visitors up 2-0 after BYU out-shot them 5-2 in the to open the half.
Tobler's goal was set up perfectly by second-half sub Keone Kapisi, but it wasn't enough for the Cougars to take any points from their second home match of the season.
"That was a great ball in there," Gilliam said of Kapisi. "He's been on our back line all season, and Connor was looking gassed, so we pushed him up and he played great. It was good to see."
BYU will try to get points back via a rematch Saturday at 7 p.m. MT against FC Boulder.
"That game was not us, and if that team shows up again then it will be a tough night," Gilliam said. "If they show up to play, then they can do whatever they want."
Photos
0 Pending Comments
Sorry, we are not accepting new comments on this story, but if you have more to contribute please email
newstip@ksl.com
Showing of 0 comments