SALT LAKE CITY — Through six-and-a-half innings, the 21st-ranked BYU softball team held the slimmest advantage over No. 16 Utah on the Utes' home field during the NCAA regional in Salt Lake City.
But softball games aren't played through just six and a half innings.
Pinch hitter Hailey Hilburn stroked a one-out single into shallow center field to drive in the game-winning run and Utah walked off with a 3-2 victory over rival BYU at Dumke Family Stadium in Friday's game.
The reserve sophomore belted a single into the center-field gap to score pinch runner Aubrey Peterson from third and sent the Utes into Saturday's regional championship final just one win away from next week's Super Regional.
"I'm not going to lie: I thought it hanged for a little longer than I wanted," Hilburn said. "But then I saw it come straight down, and I was pretty confident.
"It felt great. It's a rivalry game."
Bridget Castro went 2-for-3 with an RBI and a run scored to lead the Utes (35-14), who were hosting their first NCAA Regional in program history.
The Cougars stranded 11 runners on base and will face Fordham (46-16) at 7 p.m. MDT Saturday in the one-loss bracket of the double-elimination regional. The Rams topped Mississippi State 9-3 in Saturday's first elimination game.
"It felt like 38 (BYU runners left on base)," Utah coach Amy Hogue joked. "Sometimes it was our defense, and sometimes it was a little luck — but that's what the game is about. Sometimes there is luck on our end, sometimes on their end. But our pitchers grounded out. We really needed them to work and hit spots."
Katie Donovan earned the win in the circle for Utah, pitching a no-hitter in 2.1 innings of relief while striking out one and walking two. Starter Miranda Viramontes spun five strikeouts while giving up a pair of earned runs in 4.2 innings.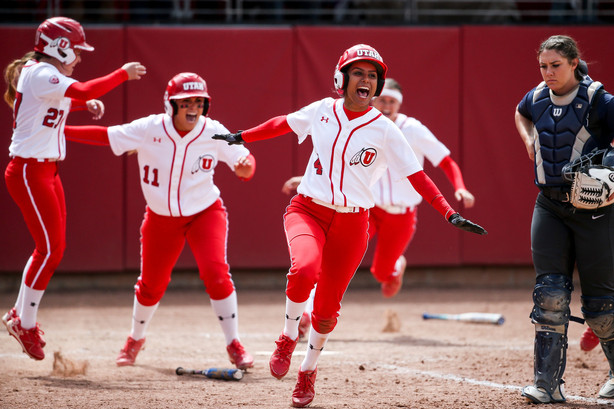 "It fell our way today and it hasn't done that for two weeks," Hogue said. "I'm proud of the resiliency this group showed."
BYU struck first via Alexa Strid's single to right field that scored Lexi Thompson in the second inning. But Utah pulled one back when Castro doubled off the centerfield wall and the teams took a 1-1 stalemate out of the first two innings.
Thompson drove in Lauren Bell with a bases-loaded single down the left side in the fifth, and McKenna Bull allowed just one run on five hits with three strikeouts before the final inning.
"Our team is awesome with a lot of capable of hitters, and this game was a matter of inches," said Strid, who went 2-for-4 with an RBI to lead BYU. "A hit here or there and it's a totally different ballgame."
But in addition to their stranded runners, the Cougars also converted just one run on two bases-loaded scenarios.
"That was a tough loss," BYU coach Gordon Eakin said. "I thought we outplayed them, but they deserve credit for coming back in the seventh inning and scoring two runs. I think the biggest tale of the game is that we left 11 runners on base and they left three."
With one inning left, Utah went to work. Bridget Castro led off the inning with a first-pitch single into the left-field gap, then came home on Heather Bowen's double off the wall.
Peterson jutted around to third in place of Bowen with a fielder's choice, setting the stage for Hilburn's walk-off game-winner.
The Utes' won for the 18th time in the history of the series after BYU's 4-3 win in Provo during the regular season. Both teams advanced to Friday's games following opening-round shutouts on the first day of the regional.
"That's three games over the last two years that have come down to one run. It's the Utah-BYU rivalry; it's always a great game," Eakin said. "They're an excellent and well-coached team, and we're not too bad, either. You expect when we go on the field that we will have a battle."
Photos
Related Stories
0 Pending Comments
Sorry, we are not accepting new comments on this story, but if you have more to contribute please email
newstip@ksl.com
Showing of 2 comments
Sorry, we are not accepting new comments on this story, but if you have more to contribute please email
newstip@ksl.com