SANDY — While some hail the rise of e-commerce as the impending doom of the American shopping mall, there are those who believe the battle isn't over quite yet.
Las Vegas-based Grey Cloak Tech and its acquisition ShareRails launched the first "searchable mall" at The Shops at South Town in Sandy during early May, essentially digitizing the mall's inventory and allowing customers to search for the product they want and see if the mall has it in store.
As shopping online becomes easier and easier, many consumers turn to the internet to find those cute shoes or the latest tech, and then dutifully wait three to five business days for their purchase to show up on the doorstep (two, if we're talking Amazon Prime).
The success of online retailers like Amazon or Zappos has left brick-and-mortar stores (and especially shopping malls) in the dust as customers head online to find what they want.
"Malls are dying in the United States," said Grey Cloak's Chief Financial Officer William Bossung. "They need to keep their tenants happy. How do they keep their tenants happy? By driving foot traffic."
ShareRails founder Joseph Nejman believes there is a way to level the playing field between online retail giants and the shopping malls on the city street corner.
The company began by partnering with Pacific Retail Capital Partners (a large shopping mall developer), which then chose The Shops at South Town in Sandy to launch the world's first "searchable mall," due in part to the mall's recent renovations.
To make the mall "searchable," ShareRails uses a software application called O2O (Online-To-Offline) to digitize shopping malls' inventory, making all their in-store products searchable via the mall's website and Google.
"The (Shops at South Town) website is generally a very static website," said Bossung. "Nothing really happens with The Shops at South Town. It tells you hours of operation, where to go, some deals, but that's it. It's only a stack of 95 static web pages."
By digitizing the store's inventory, customers can now go online shopping via the mall's web page. By going to the "Shop" tab, they can search for items and see where those items may be in the mall. They can then either buy the item online and go pick it up at the mall later or they can reserve the item if they want to go try it on or see it in person before buying.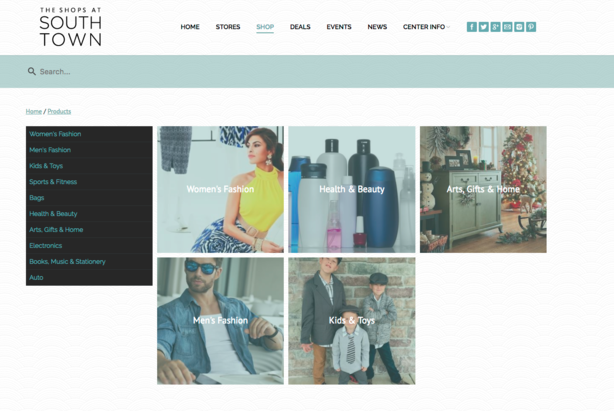 "Now here's the magic," Bossung said. "You normally wouldn't shop on a (mall) website … (but) this is geolocated through Google. So before, if you said 'I want a woman's brown belt or a woman's purse or size small women's pants in brown,' and you're around Sandy, Utah, it would take you to eBay or Amazon, it would not take you to The Shops at South Town. Now, if you enter women's pants and you're in and around The Shops at South Town mall or that area, it will show you that there are women's pants available at South Town mall."
Grey Cloak and ShareRails hope to expand the operation to shopping malls across the world and already have several projects in the works in 17 different locations including California, Illinois and even Hong Kong.
"We were delighted to work directly with management and individual tenants at The Shops at South Town to discuss their specific needs, onboard their products and immediately create substantial increases to their Online-to-Offline traffic," Nejman said in a news release. "We're looking forward to duplicating this effort in leading shopping centers throughout the U.S. and abroad."
As ShareRails continues to expand, tenants and malls will watch closely to determine the software's success rate in increasing foot traffic. If that predicted success becomes a pipe dream, the American shopping mall may become yet another casualty of technological progress.
0 Pending Comments
Sorry, we are not accepting new comments on this story, but if you have more to contribute please email
newstip@ksl.com
Showing of 17 comments
Sorry, we are not accepting new comments on this story, but if you have more to contribute please email
newstip@ksl.com