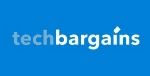 This story is sponsored by TechBargains.
Welcome to TechBargains' Weekly deals where they feature the best current deals on electronics, computers, TVs and more. Act fast as stock is limited and these discounts will not last.
Amazon announced their new Echo Show touchscreen this week. If you loved the Echo and the Alexa voice assistant, then you will love the Echo Show which adds a touchscreen interface. You can now set up quick video chats with family and friends, look at your security cameras, pull up YouTube video clips and more. Many of our users are ordering two so they can video call family members who aren't great with smartphones or computers. We encourage you to order early due to popularity.
If you've ever wondered about your ancestry or what different parts of the world make your DNA, then go with 23andme's DNA kit. Take their simple saliva test, mail it out and get results in a few weeks. You will see your ancestry composition across 31 populations worldwide. You can even see your DNA relatives based on those who make their profiles public and how much genetic makeup you share with them. Lastly, you can opt in and pay extra to get a health report telling you what genetic diseases you may be at risk for.
This is Amazon's #1 best-selling over-ear headphones, which is quite a feat. This is one of the most popular wireless Bluetooth headphones we sell on TechBargains. Many users are impressed with the quality of these headphones at the $40 price point. The ear cups fit over your ears to naturally seal in sound and block out external noises. Additionally, it has built-in active noise cancellation to electronically filter out sound. ,
Prices range between $35-$40 with the coupon code above depending on your vehicle bulbs size. Even at $40, for a pair of LED bulbs, this is far cheaper than buying an entire replacement ballast and bulb for your car. For high-performance bulbs, you pay more for brighter bulbs and you end up replacing them more frequently. With LEDs, you pay a more up front but these bulbs last a lot longer.
This is the Kindle of choice for readers and is the lowest price we've seen (usually $100 brand new). It has a high-resolution 300ppi display for sharp text and has a built-in light so you can read in the dark. There is no screen glare so you can enjoy it while reading outside in the sunlight. If you read a book a month and take your Kindle around a few times a year, this is a good choice for you.
0 Pending Comments
Sorry, we are not accepting new comments on this story, but if you have more to contribute please email
newstip@ksl.com
Showing of 2 comments
Sorry, we are not accepting new comments on this story, but if you have more to contribute please email
newstip@ksl.com