SALT LAKE CITY — Samson Akinleye used to play intramural soccer at Utah State University. Now he can't work or attend school. It's impossible for him to bend all his fingers or lift more than 3 pounds with his left hand. The pain is so bad he's considered amputation.
"Your life just changes," said Akinleye, who lives in Cottonwood Heights.
Tendon surgery in 2014 to repair a work injury left him with complications. He has complex regional pain syndrome, or CRPS, a chronic condition caused by damage to the peripheral and central nervous systems. "It's so, so bad," he said.
His partner, Kaitlyn Smyer, works full-time as a cosmetologist to support the couple. But it's hard for her to see Samson suffer. "Not being able to wash your own back or tie your own shoes," she said tearfully.
Their lives are limited by the pain and the medications, which include opioids. "If we can get rid of these, that's ideal," Smyer said.
Scientists at the University of Utah say a better solution may lie in a tank. Sean Christensen, a research specialist at the U. said, "The big guy in the sand here we named after the lounge singer Don Ho from Hawaii, but we call him Donny for short."
Dr. Michael McIntosh with the University of Utah said, "They're called conus or cone snails, and they've been collected for centuries because of the beauty of their shells. But what we've found is that they're also beautiful on the inside as well."
The same components the snail uses in its venom to capture fish can stop pain. "We purify those components, study them individually, chemically synthesize," McIntosh said.
It's working in lab rats with no known side effects and is nonaddictive, unlike opioids. Studies indicate if the compound is given at the time of injury, it helps nerves regenerate preventing chronic pain.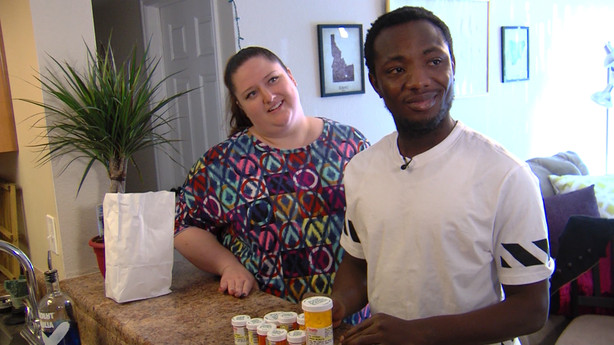 "The longer we give the compound, the better the animals do in terms of pain. There seems to be this disease-modifying restorative property," McIntosh said.
The cone snails are found in tropical reefs mostly in the Indo-Pacific. A team of divers in the Philippines found the snails for scientists at the U. They believe the compound acts on the nicotinic receptor in immune cells, which can go awry and damage nerves.
Samson would like to be a part of the clinical trials and remains hopeful about the future. "Have a good life with my family, my partner," he said, emphasizing he's not giving up. "It's not easy, but I'm getting there." Samson said he believes life won't always be this hard. "With faith, all things are possible."
The compound is an injection, similar to insulin given to diabetics. Scientists expect the clinical trials will begin within the next two years.
Photos
Related Stories
0 Pending Comments
Sorry, we are not accepting new comments on this story, but if you have more to contribute please email
newstip@ksl.com
Showing of 14 comments
Sorry, we are not accepting new comments on this story, but if you have more to contribute please email
newstip@ksl.com