THE GREAT OUTDOORS — Utah is known for its breathtaking scenery and natural beauty. Ranging from the cool turquoise waters of Bear Lake in the northernmost part of the state to the towering Uinta Mountains to the alluring red rock canyons scattered across southern Utah, you can find something for everyone in your family.
The best part is you can visit most of these locations within a four-hour drive (or less) from almost anywhere in the state. If you love the outdoors, Utah is the perfect destination for a long weekend trip with the family.
Here are six family-friendly hikes to explore the best of Utah, highlighting unique landscapes you won't find anywhere else.
Northern Utah
Bear Lake is known as the "Caribbean of the Rockies" for its deep blue color and is a popular destination for its water skiing, swimming, scuba diving, sailing and year-round fishing. En route to Bear Lake, you will find a delightful 1.5-mile loop trail called the Limber Pine Trail.
Related Stories:
This is a great trail for all ages that meanders gradually uphill to a giant limber pine tree, which is actually several trees that have grown together over hundreds of years. You will also see great views of Bear Lake along the way. Before you start hiking, pick up a guide pamphlet in the wooden box at the trailhead so you can follow the 12 numbered education stations as you hike.
The Bear Lake area is known for its delicious raspberries, so if you visit during the first full weekend in August, you can check out the popular Raspberry Days Festival.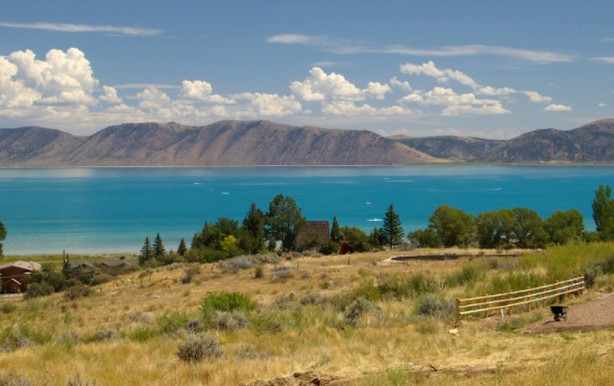 Antelope Island is the largest island on the Great Salt Lake and is known for its wildlife populations like pronghorn antelope, bighorn sheep, American bison, porcupine, badger, coyote, bobcat and millions of migrating birds.
The Buffalo Point Trail is a 1-mile loop that gives you amazing panoramic views of the Great Salt Lake. It's common to see antelopes, jack rabbits, birds and bison on this hike. If you haven't experienced what it feels like to float in the salty waters of the Great Salt Lake, go to the nearby Bridger Bay Beach to take a dip.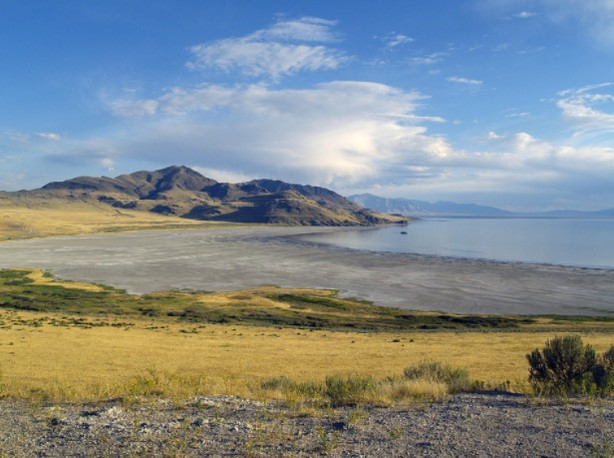 The Uinta Mountain Range is unusual because it is the only major mountain range in the contiguous U.S. that runs from east to west rather than north to south. These rugged mountains are home to Kings Peak, the highest point in Utah at 13,534 feet, and is the largest wilderness area in Utah. With over 1,000 natural lakes, fishing is very popular in the area.
Crystal Lake is an easy hike off of the popular Mirror Lake Highway (state Road 150) and is often less crowded than some of the surrounding lakes. There are several trails that branch off from the main Crystal Lake Trailhead, so make sure you take the right one. Hikers start with a short walk through the forest before arriving at the lake. From there, take the boardwalk trail that turns into a faint dirt trail and follow it around the lake. If you're looking to extend your hike, there are a lot of options to explore, including a 5-mile loop that takes you to three additional lakes.
It should be noted that Mirror Lake Highway is currently closed and typically doesn't reopen until late May or early June so be sure to check the Uinta-Wasatch-Cache National Forest website before planning the trip this early in the season.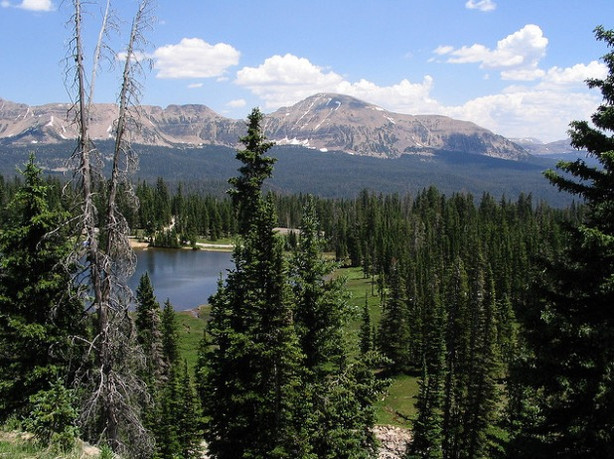 Southern Utah
Goblin Valley is located southwest of Green River in the San Rafael Swell in southeastern Utah. It is a magical place for all ages to explore. The main attraction is the first valley of sandstone rock formations called hoodoos that some say look like little goblins, hence the name. There is not a dedicated trail here, so you get to choose your own route to explore as much or little as you want. Consider bringing a GPS device if you venture farther out.
The time and distance of the hike are up to you but plan to spend at least an hour here. If you decide to camp, don't miss one of the ranger-led moonlight hikes or telescope tours. Goblin Valley has one of the darkest night skies on earth with amazing views of the Milky Way.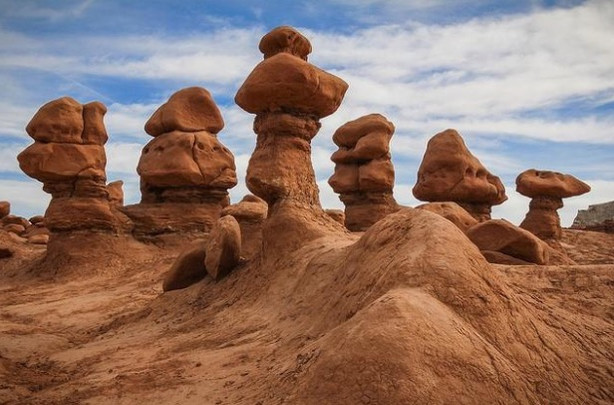 Don't be turned off by the name. Dead Horse State Park is a beautiful, expansive plateau towering 2,000 feet above the Colorado River, not far from the popular adventure town of Moab. The main attraction is Dead Horse Point Overlook, which gives you impressive views of unique features carved by the Colorado River including the gooseneck, Pyramid Butte, red rock canyons and expansive mesas.
It's only a short walk along a paved pathway from the parking lot to the main overlook. It's worth taking time at the visitor center to walk on the short 1/4 mile interpretive nature trail. To get views to the east, take the easy 1-mile trail to the Colorado River Overlook.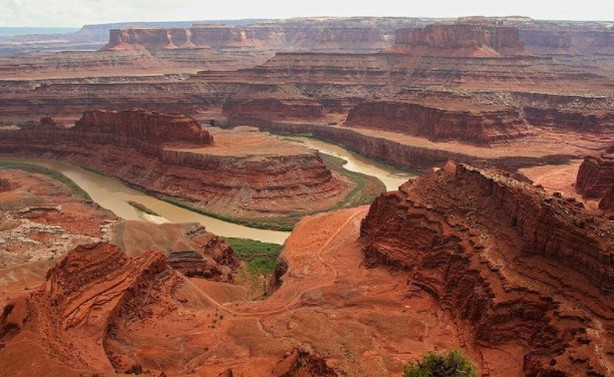 The Red Reef Trail takes hikers through dry desert washes where they can admire desert plants like sage and cati, before leading them to deep red rock gorges with creeks, waterfalls and a narrow slot canyon. The first half mile or so is perfect for kids.
The trail follows Water Canyon following the creek (wear shoes that can get wet), then leads to a slot canyon with a pool that is popular in summer for swimming (to get to the swimming hole it is 1-1.5 miles roundtrip). Before entering the canyon, you will pass a large, hollow stump that resembles the head of an elephant; many families like to take a picture there.
This trail is located in an area called the lowland zone, which protects sensitive species, so make sure to hike only on marked trails and don't step on the fragile cryptobiotic soil. Since this canyon was formed by flash flooding, avoid this hike if it's raining and always check the weather before going.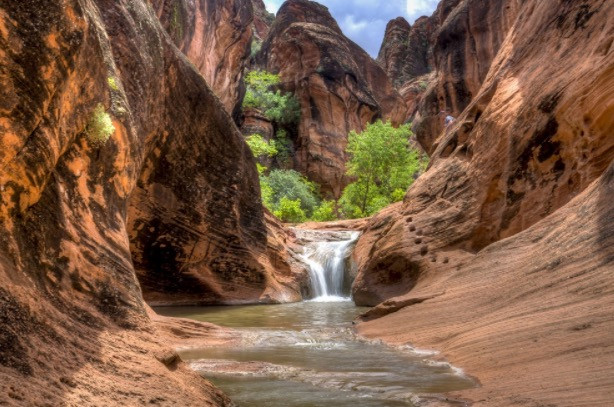 Safety considerations
To make sure everyone stays safe and happy on your hikes, dress in layers, bring bug spray, sunscreen, a hat and wear protective clothing (pack rain ponchos too, just in case). In early spring or summer, there may be snow on some of the trails at higher elevations, so bring sturdy hiking boots and consider bringing hiking poles or strap-on traction spikes. There are many great opportunities to see wildlife, just make sure you keep your distance to keep everyone safe.
In the summer, it can get very hot, particularly in southern Utah so try to hike in the morning or evening when temperatures are cooler. As always, bring plenty of water and snacks for everyone in the group, even for short jaunts.
What is your favorite family hike in Utah? Tell us in the comments below.


---
Krystal Rogers-Nelson is a Utah native, writer, artist and mother of one rambunctious toddler. She can be contacted at krystal.rogersnelson@gmail.com
0 Pending Comments
Sorry, we are not accepting new comments on this story, but if you have more to contribute please email
newstip@ksl.com
Showing of 5 comments
Sorry, we are not accepting new comments on this story, but if you have more to contribute please email
newstip@ksl.com