SALT LAKE CITY — Richard Carling, 79, from Salt Lake City, ran his 39th consecutive Boston Marathon this year, completing over 155 marathons in total.
As a member of the "Quarter Century Club," Carling is part of an elite group of athletes who have run the Boston Marathon 25 or more consecutive years. The world record was set this year by Ben Beach who ran his 50th consecutive Boston Marathon, beginning at the age of 17.
Carling, who also served as a Republican member of the Utah House of Representatives and Utah State Senate, didn't discover his love and ability to run until a little later in life after a brush with death on the Senate floor.
"I was sitting at my desk in the Senate, and they thought I was having a heart attack," Carling said. "They pulled me off the floor and into the lounge and had some medical people look at me. They said, 'You're not having a heart attack, but you're on the verge of it. You've got to get rid of this stress or you're not going to be with us.'"
So Carling started running, beginning first with a few miles a week around the track at the Deseret Gym. A little while later, Carling gained a running partner in the form of Democrat Ted Wilson, the 30th mayor of Salt Lake City, and the two began training together.
"Ted and I started running together and everyone just kind of laughed. A Republican and Democrat were best friends, we got along. Everybody got along in those days," Carling said.
Soon, Carling suggested they do a marathon together and, though Wilson couldn't participate, Carling ran his first marathon in Brigham City, then ran the Deseret News Marathon later with Wilson.
Related Stories:
After completing several more races, Carling qualified for the Boston Marathon at age 40 and, though, according to Carling, he only needed a time of 3:10 or 3:15 to qualify for Boston, he always prided himself in completing his marathons under 3 hours.
"A group of us went over and ran it, and I got hooked on it ever since," Carling said.
Since then, Carling has become a well-known figure at the Boston Marathon, even making friends with the SWAT team that patrolled during the bombing of the marathon four years ago. This year, he said, people were especially enthusiastic as he ran by.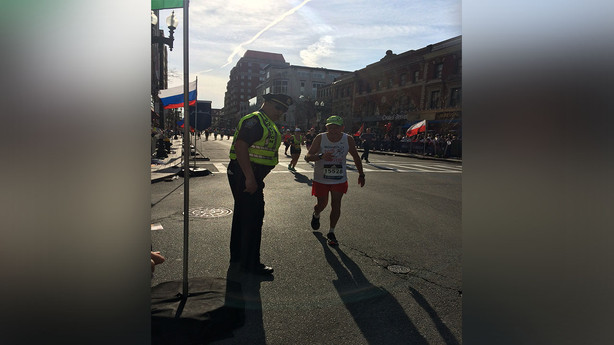 "I've never seen such enthusiasm, and I think it's 'cause my shirt said 'Richard's 39th Boston Marathon, age 79,'" Carling said. "People just went wild. It was just unreal, and everyone was giving me high-fives when I came by. If I can't do it next year, it's been a good haul."
Though he may not run the Boston Marathon next year (he says his family wants him to stay alive), Carling plans on running the Honolulu Marathon for the 37th time in December — his first marathon at 80 years old.
And though he may be slowing down, Carling doesn't yet feel his age.
"I said to my cousin, 'I can't understand it, we're getting older,' and he said, 'No we're not, we're doing just fine. It's these other people that are getting younger.' And I've had a such fun experience," Carling said.
Related Stories
0 Pending Comments
Sorry, we are not accepting new comments on this story, but if you have more to contribute please email
newstip@ksl.com
Showing of 10 comments
Sorry, we are not accepting new comments on this story, but if you have more to contribute please email
newstip@ksl.com