PROVO — With a week to go until the NFL draft, former BYU running back Jamaal Williams is hoping to hear his name called by one of the league's 32 teams.
Before he leaves for a future in pro football, he gave BYU fans one final gift — an in-depth documentary about the pre-draft process by new media group Media Mangy, released late Tuesday night on YouTube.
Williams gave the documentarians a tour of campus, introducing them to BYU's Legends Hall and different players, coaches and professors who had a major impact on Williams' time at BYU.
He also wants to give back to the BYU community that took him in.
"Playing football, a lot of kids look up to me," Williams said. "I've been one of those kids before, when I was going to UCLA games when I was little. I asked for autographs, for gloves, and every time they ask me for things, it brings the kid out of me. The best thing you can always do is, say 'hey' to them."
The documentary followed Williams through his recent Pro Day workouts and the Cougars' 2017 spring game. Many of the usual suspects were involved in the show, including BYU running backs coach Reno Mahe, personal trainer Luke Neal and mother Nicolle Thompson Williams, who has grown to become the unofficial "BYU team mom."
"Thanks to Jamaal, I got to enjoy my first year as a college coach," Mahe said. "He made it really easy for me."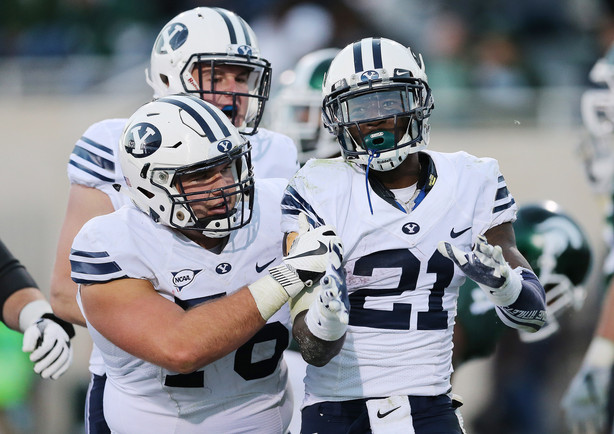 The film speaks of Williams' move to Provo as a "double minor" — a black running back on the predominantly white campus, and a non-Mormon whose first introduction to the LDS Church came when he enrolled in school as a 17-year-old freshman.
Williams holds no ill will or grudges toward the university, even after the adversity of a career that saw him take a year away from the game to attend to personal matters.
"They made me feel accepted," Williams said of BYU. "I liked the whole football environment, letting me come in and be a part of the family.
Family was important to Williams, and one of his most valued professors, according to the documentary, was BYU associate professor of church history Mark D. Ogletree.
The father of former BYU defensive lineman Brandon Ogletree had Williams in class during an LDS marriage and family relations course at BYU, and the family grew close to the aspiring pro athlete during his five-year career.
"Jamaal's not a Mormon … and a lot of these religion classes he was taking were quite foreign to him," Ogletree said. "But the family was something he really gravitated to. I think he really liked it.
"... What a difference he's made at BYU, and how much people love and respect him. I hope that he'll be one that comes back for many years to come. Jamaal changed."
Of course, no documentary about Williams would be complete without his mother Nicolle.
"Everybody knows my mom around here," Williams said. "She's the team mom now."
The former UCLA track star spoke profusely about her son and the now-famous support she has leant him. Williams promised his mother he would graduate from college, and he fulfilled that promise by earning a degree in sociology from BYU before he entered the NFL draft.
"My parents were very supportive of me," Nicolle Williams said. "I know it's very important when you are competing to have someone in the stands cheering for you.
"My thing growing up was, I will always be there for (my children), wherever they are at, wherever they need me, I would always be their No. 1 cheerleader."
(Full disclosure: KSL Sports is included multiple times among the documentary's collection of highlights, along with ESPN and BYU's in-house video crew. Watch the full documentary on YouTube via the video player above).
0 Pending Comments
Sorry, we are not accepting new comments on this story, but if you have more to contribute please email
newstip@ksl.com
Showing of 1 comments
Sorry, we are not accepting new comments on this story, but if you have more to contribute please email
newstip@ksl.com