LOS ANGELES — Three thoughts on the Jazz's 99-91 loss to the Los Angeles Clippers from KSL.com's Utah Jazz beat writer, Andy Larsen.
1. Clippers dominate the paint without Gobert
Without Rudy Gobert available, the Clippers made it a focus to attack the paint in Game 2. They did that with abandon, getting 60 points in the paint on just 44 shots against Utah. That's the second highest the Jazz have allowed all season long, and it allowed the Clippers to shoot a good percentage from the floor even with iffy outside shooting.
"You're talking about probably the best pick and roll player in the league, so there's going to be situations where he's able to exploit you," head coach Quin Snyder said about Chris Paul. "And then you might have the best roller in the league," Snyder said about Jordan. "That's a tall order."
They scored in the paint in numerous ways. First, and perhaps most importantly, there was the pick and roll: Derrick Favors would be caught trying to prevent Paul from scoring, so he'd slip up too high, allowing lobs for DeAndre Jordan. Gobert might have a chance of stopping this pass, but Favors doesn't have that length or explosion.
Jordan's first points, a lob from Paul. pic.twitter.com/tLQBJmCDef

— Andy Larsen (@andyblarsen) April 19, 2017
But Blake Griffin got going down low too, scoring 20 points of his own in the paint. Some of them were in transition, when he'd just attack the Jazz while they were off balance. By the way, check out the clever early screen to stop Favors from getting back as quickly as he'd like to.
Blake Griffin attacking early in transition. See that clever screen on Favors early in the backcourt? pic.twitter.com/wOuGs0sXYK

— Andy Larsen (@andyblarsen) April 19, 2017
And sometimes, the Jazz were beaten on the glass. The Clippers had eight offensive rebounds to the Jazz's three. Honestly, I thought that was a pretty decent outcome considering that the Jazz were giving up so much size and explosion at the frontcourt positions.
Many of the problems would be fixed if Gobert came back: he's one of the best rebounders in the league, a rim protector who changes how the Jazz guard pick and roll and other actions inside. But the Jazz don't know when he'll be back, though they're hopeful it will come this series.
In the meantime, though, the Jazz have to be better. In some ways, they figured it out a little bit in the fourth quarter, when they only allowed six of those 60 points. That unit was more willing to give up some open outside looks from J.J. Redick, Jamal Crawford, and Luc Mbah a Moute, in order to stop the Clippers inside.
2. Jazz's offense never really gets going
The Jazz's offense has had only one good game against the Clippers this season: the regular season win. The Jazz's Game 1 win was decent offensively, but still a below-standard performance when looking at the Jazz's points per possession.
The biggest reason is DeAndre Jordan, who was great inside tonight. The Jazz get a whole lot of their offense from interior drives, but Jordan is there to swallow some of those up. That means they end up taking a lot of midrange shots against the Clippers, and tonight, they didn't make them.
A lot of those looks were from Gordon Hayward. "I thought I shot the ball decently well from three, missed way too many twos. I feel like I could have gotten better looks. But they do a good job of trying to corral our ball handlers into their bigs and force you into tough shots."
As Hayward explained, his twos were tough looks. He actually didn't have any attempts at the rim in the game.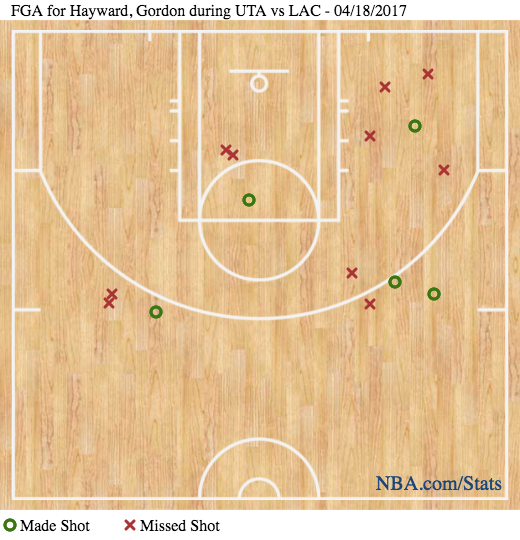 Hayward was still one of the Jazz's most reliable options: even with shooting just 5-15 from the field, a total of 20 points isn't too shabby. But the Jazz will need more from their other shooters in order to score more easily offensively.
Joe Johnson, for example, missed all of his threes tonight after some critical shots in Game 1, he finished with 13 points on 6-15 shooting. George Hill had 12, but again, it was on 5-12 shooting.
"Defensively, we made them take the shots we wanted them to take," Griffin told the media after the game. And that showed from the results.
3. Early starts a problem, but Jazz maintain fight
The Jazz have now had five consecutive games against the Clippers when they started in a hole:
Feb. 13: 6-0 start by L.A. forces early Jazz timeout.
March 13: 10-2 start by L.A. after Jazz allow Clippers to score on first five possessions.
March 25: 17-6 start by the Clippers when Jazz score three baskets in the game's first nine minutes.
Game 1: 7-2 start for L.A. after Gobert goes down.
Game 2: 19-8 start for L.A. as the Jazz get shredded inside without Gobert.
Of course, without that start, the Jazz win Tuesday night's game. They actually won or tied all three other quarters, keeping things close in less-than-ideal circumstances.
The Jazz deserve some credit in keeping it close all night. When Griffin was asked about why the Clippers weren't able to put the game away earlier, he credited the Jazz for their effort.
"They're a team that they keep fighting. They keep executing. I've said it over and over, but they're really well-coached. They don't panic."
That allowed the Jazz to stay close and they didn't really give the Clippers the idea that they could roll over the Jazz in the series. It still feels like the Jazz are happiest with the outcome of the first two games, given the loss of Gobert and the 1-1 split that sends home court advantage to Utah.
Speaking of home court advantage, the Clippers were asked about that after Game 2. Chris Paul called Jazz fans "complete homers" in his TNT walkoff interview, then was asked to explain the phrase with the rest of the media.
"That means they like their team. Why even try that, though? I've said that before, they're homers, and I say when you go play there, you don't really see like opposing teams' jerseys; know what I mean? Like they support their team, which is good; know what I mean? How can you take that in another way?"
Paul made a similar comment before Game 1.
It's a compliment to the Jazz's crowd, which will be much more active and loud than the Clippers' somewhat snoozy home court. Game 3 will be loud Friday night, and the Jazz might need to feed off of that energy to pick up a win.
0 Pending Comments
Sorry, we are not accepting new comments on this story, but if you have more to contribute please email
newstip@ksl.com
Showing of 31 comments
Sorry, we are not accepting new comments on this story, but if you have more to contribute please email
newstip@ksl.com