PROVO — Maybe the first difference you'll notice about Harvey Langi is his hair, particularly the smooth mane that flows out of the back of his ball cap or the newly acquired facial hair since he left BYU after the Poinsettia Bowl in December.
But Langi has grown up in plenty of other ways, too.
The one-time Utah running back recently completed his third season at BYU, finishing with 139 tackles, 11.5 tackles for loss, 6.5 sacks and two interceptions while shuffling from linebacker to defensive end to fullback for the Cougars.
Between position changes and playing for three different head coaches in Kyle Whittingham, Bronco Mendenhall and Kalani Sitake, Langi's collegiate experience hasn't been typical. And he wouldn't trade it for anything as he prepares for the NFL draft, which begins April 27 at 6 p.m. MDT.
"It's been fun," he told KSL Sports. "A lot of twists and turns, different schools, but I'm here now and ready for the next step. It's been a fun ride."
Now, he's on to the next step: the NFL draft, where Langi's stock is rising after standout days at the NFL Draft Combine and BYU's Pro Day.
"I try not to hear anything," Langi said. "Everyone looks at all 32 teams, but I just look at one team and hope one guy likes the way I play."
The 6-foot-2, 250-pound defensive end ran a 4.62-second 40-yard dash at BYU, and he was among the NFL Combine's top performers with a 4.32 20-yard shuttle and an 11.83 60-yard shuttle.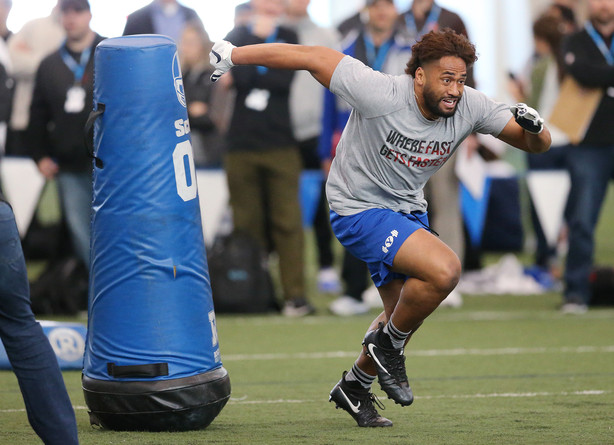 Langi's NFL position may end up being at middle linebacker, even as he waffled between several positions during his senior season at BYU, according to some NFL scouts.
But a position change would be far from his only life change. Those changes started during a two-year mission for the LDS Church in Florida, where he said he grew up in ways other than football. Prior to missionary service, the South Jordan native admitted to being "immature." BYU felt like more of a chance after he came home than after high school, he said.
"I asked Coach Mendenhall if I could be a part of his team, and then if I could play defense," Langi said. "But coming back from the mission, having that structure, the Honor Code, I felt like it was better for me to stay at that spiritual level I was at from my mission.
"You can get that anywhere: Utah, Utah State, USC, Stanford. But for me, personally, I felt like BYU could help me out."
Moving from the offensive side of the ball was also always part of Langi's plans.
"Polynesians don't get a huge shot at running back," he said. "Polynesians are more likely D-ends or linebackers, so I knew if the NFL was in my plans, I had to switch."
Langi credited all three of his head coaches for helping him be prepared for the NFL draft. He's currently projected as a third-round pick by the New England Patriots by nfl.com.
If those projections hold, he'd be the first player from BYU taken in the draft and the second prospect from the state of Utah, behind Utah offensive lineman Garrett Boles.
Of course, Langi knows the draft is just the beginning of the next step.
"(Linebacker) is what I want to play, but I also want to play a lot of special teams," he said. "I'm watching a lot of film and getting my football mind back. Special teams is where my mind is at, and that's how I can go to a team and help them."
Until then, Langi will continue his normal routine, interviewing with whatever teams his agents at Priority Sports ask of him and going through the same pre-draft workouts, eating schedules and drills to prepare for rookie mini-camps this summer.
"Everyone says this is the longest year of your NFL career," Langi said of the month before the draft. "Stress is what comes with being an athlete, and it keeps me on my toes. I feel like stress is a good thing."
And for any teenage prospect who wants to be "the next Harvey Langi," the one-time Bingham High star has a message.
"Surround yourself with people that will push you to be the person you want to be," he said. "Surround yourself with people that love you, that really care about you and that really want you to be successful."
Related Stories
0 Pending Comments
Sorry, we are not accepting new comments on this story, but if you have more to contribute please email
newstip@ksl.com
Showing of 11 comments
Sorry, we are not accepting new comments on this story, but if you have more to contribute please email
newstip@ksl.com