SALT LAKE CITY — Frank Layden led the Utah Jazz to five playoff appearances in nearly eight years as the franchise's head coach.
But he offered up a very different interpretation of his greatest feat in franchise history during a pretaped video at the 2017 Governor's State of Sport awards show Thursday night at Vivint Arena.
"My greatest contribution to the organization is when I resigned," Layden said in prerecorded remarks that echoed his trademark humor and sarcasm. "That's when Jerry Sloan took over."
Sloan was one of three special honorees during the annual awards show, when the legendary Utah Jazz coach and pro basketball hall-of-famer received the association's Lifetime Achievement award.
Former Jazz players, executives and broadcasters sang praises to Sloan as he received his award, anchored by his family and wife Tammy during the dinner. Former point guard John Stockton called Sloan "my friend," and Thurl Bailey added that everything his coach said to him had a different meaning than just face value.
"When Jerry said something, it meant something a little bit deeper," Bailey said. "Jerry always told us to tuck in our jerseys. What it really meant was to have respect: respect for the game, and for yourself."
When longtime Jazz broadcaster Craig Bolerjack sat down for a stateside chat with Sloan, he turned to the audience, then back to Sloan and casually said, "It's your time."
Sloan, who was diagnosed with Parkinson's disease and Lewy body dementia a year ago, quickly corrected him — in the way only the beloved Utah sports figure could.
"It's not my time," he said. "I've got a little time left, and I want to make the most of it."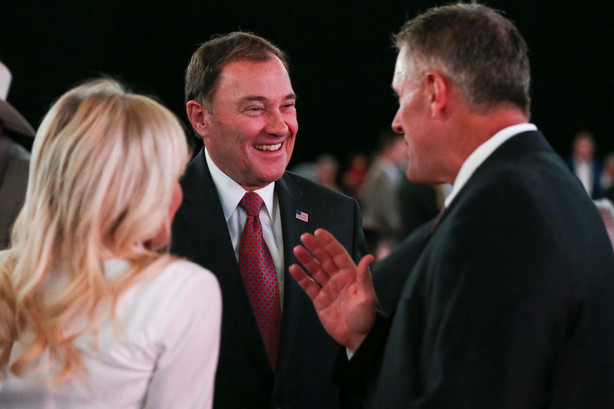 Former BYU football coach LaVell Edwards was also awarded the State of Sport's inaugural Legends Award. The presentation, which was awarded posthumously and accepted by Edwards' wife Patti, honors legendary figures in Utah sports history for their contributions to the sporting landscape and the community at large.
"What can I say about 'Coach' that hasn't already been said?" said Utah head coach Kyle Whittingham, who played from Edwards from 1978-81. "He was a legend, no doubt about it.
"He certainly changed the trajectory of the Whittingham family's lives, and we wouldn't be here today — there is no doubt about it."
Edwards brought a then-no name high school football coach named Fred Whittingham to BYU, and the family has lived in Utah ever since.
"We wouldn't be here today if it wasn't for coach Edwards," Kyle Whittingham said.
Whittingham was joined on stage by Kalani Sitake, the current BYU football coach who played for Edwards from 1994-2000.
"He was a great mentor to me, to Kyle, and to a lot of people," said Sitake, who has also coached at Utah and Oregon State, among other stops. "I could talk about him all day."
An emotional Sitake then pulled out his iPhone, and put the speaker next to the microphone to play one of the last voice messages his former coach sent him. It came after the Cougars' 55-53 win over Toledo that pulled the team out of a 1-3 start and started a run of eight wins in nine games to end the season. In the short voice mail, Edwards told Sitake how proud he was of the former BYU fullback, and ended with four words.
"Keep it going, man," Edwards said.
"I've tried to delete that message, and I can't do it," Sitake said.
Rodeo cowboy Tanner Aus received the inaugural Lewis Field Bareback Riding Award in honor of the former world champion and legendary rodeo figure, and the Utah Sports Commission handed out 11 awards to athletes from high school to professional sports in the state's past year.
Jazz center Rudy Gobert won professional male athlete of the year, and rookie teammate Joel Bolomboy was named collegiate male athlete of the year after a standout senior season at Weber State. Two-time Nike Cross Nationals champion Casey Clinger of American Fork took him high school male athlete of the year.
Ten-time national champion climber Alex Pucci won professional female athlete of the year, former BYU soccer star Ashley Hatch was female collegiate athlete of the year, and Provo cross-country standout Kate Hunter was named high school female athlete of the year.
The awards also honored the East High football team as the team of the year, and Halee Cacciacarne's game-winning goal in the NCAA Tournament that sent Utah women's soccer to the first Round of 16 berth in school history was the highlight of the year.
Governor's State of Sports Awards
| Name | School/Team | Award |
| --- | --- | --- |
| Kate Hunter | Provo cross country | high school female athlete of the year |
| Casey Clinger | American Fork cross country | high school male athlete of the year |
| Ashley Hatch | BYU women's soccer | collegiate female athlete of the year |
| Joel Bolomboy | Weber State men's basketball | collegiate male athlete of the year |
| Kolleen Conger | motocross | adaptive female athlete of the year |
| Hunter Woodall | Syracuse High/U.S. Paralympian | adaptive male athlete of the year |
| Alex Pucci | bouldering climber | pro female athlete of the year |
| Rudy Gobert | Utah Jazz basketball | pro male athlete of the year |
| Jennifer Rockwood | BYU women's soccer | coach of the year |
| East High School | football | team of the year |
| Haley Cacciacarne's game-winner | Utah women's soccer | highlight of the year |
Related Stories
0 Pending Comments
Sorry, we are not accepting new comments on this story, but if you have more to contribute please email
newstip@ksl.com
Showing of 0 comments