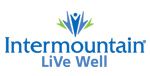 This story is sponsored by Intermountain LiVe Well. LiVe Well is about helping people live the healthiest lives possible.
When you go to a doctor's office, do they ask you how you feel emotionally? Research suggests that they should, because physical health and mental health are connected.
In a ten-year study, Intermountain Healthcare found important correlations in helping people heal better by using team-based practices with patients, including having mental health experts in the doctor's office. The study was published in Journal of the American Medical Association and recently won the national Hearst Health Award from the Jefferson College of Population Health in March.
Here are four improvements Intermountain Healthcare has made to screen for mental health and how it has improved their patients' overall health.
Screening for depression
The first step in establishing this team-based care was to start having patients screened for depression symptoms. When physicians started giving these screenings along with regular doctor visits, it resulted in a dramatically higher rate of patients who benefitted from this service. This new protocol allowed clinicians to provide medical and behavioral interventions earlier, compared to patients in traditional practices.
Treating mental health helps treat chronic illnesses
Part of Intermountain's study found that those with chronic illnesses actually benefit from mental health treatment. They found 24.6 percent of patients in team-based practices adhered to diabetes care protocols, including regular blood glucose testing, compared to 19.5 percent in traditional practices, which demonstrated how well patients engaged with care teams who work together to manage their health.
Decreasing hospital visits and lowering healthcare costs
Patients in team-based medical practices also used fewer healthcare services and had lower total costs, according to the study. The emergency room visits dropped 23 percent with the team-based care model, and the rate of hospital admissions dropped by 10 percent. Staying out of the hospital and emergency rooms reduce healthcare costs for families, which can be expensive for everyone.
Developing a behavioral health access center
Identifying and treating behavioral health has become a major focus at Intermountain. This commitment is evident at the brand new McKay-Dee Hospital Behavioral Health Access Center, now available 24 hours a day, 7 days a week.
The Access Center is a safe place to go for individuals who have depression, anxiety, or other mental health issues who need immediate help. They will triage patients in crisis and provide short-term care and outpatient referral services. If hospitalization is required, the care is coordinated onsite at the inpatient behavioral health unit.
For information and more tips on how you can focus on your well-being, visit IntermountainLiVeWell.org.
0 Pending Comments
Sorry, we are not accepting new comments on this story, but if you have more to contribute please email
newstip@ksl.com
Showing of 2 comments
Sorry, we are not accepting new comments on this story, but if you have more to contribute please email
newstip@ksl.com