SANDY — All it took was a little orange ball.
Albert Rusnak had a goal and two assists to help Real Salt Lake earn its first win of the season, 3-0 over the Vancouver Whitecaps on a snowy spring Saturday at Rio Tinto Stadium.
Yura Movsisyan and Luke Mulholland each added a goal for RSL (1-3-2), which won in the head coaching debut of new manager Mike Petke.
"Obviously we wanted to play for our supporters," Petke told reporters after the match. "It is a huge part of what we do and the respect that we have for them coming out, especially tonight, is amazing. I have said it throughout the last 10-12 years coming here, the support that I have seen them show this team and to be a part of that now is amazing."
After a scoreless first half, the referees brought out the orange ball used for extreme weather conditions to begin the second half — and Rusnak responded by cutting inside the six-yard box and sliding home a shot into the lower left corner by Whitecaps goalkeeper David Ousted in the 54th minute.
Rusnak delivered a pinpoint cross from the flank 20 minutes that found Movsisyan, whose curler doubled RSL's advantage amid a snowy onslaught.
Mulholland capped the scoring with his second goal in as many weeks, finishing off Rusnak's corner kick in the 78th minute to give Salt Lake its highest single-match goal total of the season and most since a 3-3 draw Sept. 7, 2016 with L.A. Galaxy.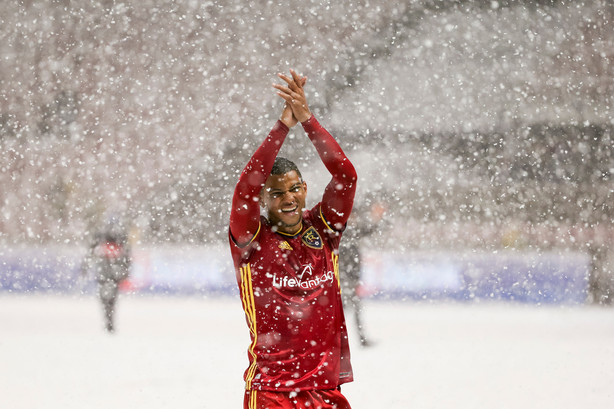 Here are a three quick thoughts on Salt Lake's first win of 2017.
RSL needed that one
After finishing 2016 winless in eight-straight matches, including losing three of the final four of the season, Salt Lake's play didn't inspire much confidence.
The confidence drained even more during the club's 0-3-2 start to the 2017 calendar — part of which led to the ouster of former head coach Jeff Cassar.
But with a new manager comes new opportunities, and RSL may have gotten the break it needed in a snow-pocalypse game in Sandy against a Vancouver side that was just 1-2-1 entering the match.
"It was just a lot of heart and desire that goes into the win," Mulholland said, "and I felt like we had been playing a lot of good football this season, minus the Minnesota second half and the first half in Chicago. But eventually the gates open and you can get your win, so hopefully we can look at the film and go from that, but I don't know how helpful it's going to be with the highlights of the snow, but definitely focusing.
"We're going to enjoy this tonight."
Confidence is key in soccer, and RSL — though no player or coach may admit it — didn't have much after a 4-2 thrashing at expansion team Minnesota United a week ago.
How much can change in a week's time? For RSL supporters, hopefully a lot.
The Mike Petke era is off to a solid start
Whether Petke was intended to be the fixer of Salt Lake's woes at the start of the season is irrelevant, at this point. The former New York Red Bulls head coach just gets results.
Petke won a Supporter's Shield and a spot in the Eastern Conference finals in two seasons as head coach of New York before he was unceremoniously fired by the Red Bulls with a record of 30-19-19.
Sure, it's just one result. But Petke's run at RSL couldn't have gotten off to a better start.
"That my toes are frostbitten and I had to have my pants tumble dried at halftime. Little things I will remember," Petke joked after the match. "Oh, and the three-nothing win. I will remember that too."
Rusnak played like a Designated Player
For those new to Major League Soccer, DPs are impact players whose salary only counts against a lower percentage of each team's salary cap — usually reserved for rising stars or aged veterans with vast international experience.
If anything, Rusnak fit into the former category; the 22-year-old attacking midfielder was raised in the Manchester City academy system, and he came to RSL after two years at FC Groningen.
On Saturday night, the Slovakian international proved his paycheck. Not only did he score his first career goal in MLS play, but he directed an offensive onslaught unlike any his new team has seen since he arrived stateside.
"The earlier you score your first goal in the new league, in a new team, the pressure just drops a little bit off you," Rusnak said. "I'm an attacking player so my job is to score goals and to also make assists. So I'm very glad I scored a goal today, my first goal and that I helped my team to win."
0 Pending Comments
Sorry, we are not accepting new comments on this story, but if you have more to contribute please email
newstip@ksl.com
Showing of 6 comments
Sorry, we are not accepting new comments on this story, but if you have more to contribute please email
newstip@ksl.com