AMERICAN FORK — If American Fork girls basketball star Taylor Moeaki needed a little extra motivation to finish her senior season with a Class 5A state championship, she could just look around her.
Top post player Taylor Franson, sharp-shooting Paige Farnsworth and hard-nosed rebounder Savannah Empey were among the seven other seniors on the Cavemen roster in 2016-17 who spurred Moeaki to guide her team to its first state title since 2009.
If she needed more motivation, a glance at the bench would do just that: Veteran coach Corey Clayton had told the team two years prior that he was was ready to retire after the 2017 class. Moeaki's senior group gained a key figure.
It was time to finish the job.
"It was a fairy-tale ending," Moeaki said after being named KSL's Game Night Live Player of the Year. "I couldn't have asked for anything better than what happened.
"Doing it as seniors with a big group, with our coach going out — everything was perfect, and I couldn't have asked for more."
The Cavemen (25-1) finished Moeaki's final season on a 25-game win streak. After a 69-59 home loss to Class 4A's Alta that opened the year, American Fork only played two games within six points until the 5A state playoffs.
The loss was key to setting the tone for the remainder of the season.
"I think that loss was really important for us," Moeaki said. "We definitely had to re-evaluate and trust in our coaches after that game. I think after that, our team came together and decided we wanted to take this season for what it was."
After the 10-point loss to the Hawks, American Fork beat teams by 410 total points during the regular season, including a 12-0 run that claimed the Region 4 title, for an average margin of victory of 19.52 points.
The 5-foot-7 combo guard played a key role in the Cavemen dominance. The top scorer in 5A, Moeaki averaged 18.6 points, 3.2 assists, 2.3 rebounds and 2.2 steals per game in a system that limited her playing time as Clayton substituted entire lineups at once, like a hockey line change.
But sometimes the best thing a coach can do is let his players do what they do best, Clayton said.
"It really was her team," Clayton said of Moeaki. "The style we play was so hand's off that we gave those kids some ideas and then just told them to go for it. She was like a coach on the team. She wasn't a really vocal leader, but she was a great example of a leader on the floor.
"Plays don't win games; players win games," Clayton added. "If you develop good players and give them confidence, they are going to win for you."
Off the court, Moeaki is just as impressive. With a 3.99 grade-point average and years of experience in leadership roles within the Young Women's organization of the LDS Church, Moeaki stormed through the local postseason awards scene, earning the Gatorade Utah Girls Basketball Player of the Year honor and Ms. Basketball from the Deseret News.
The off-the-court honors are just as important for Moeaki, who will continue her basketball career at Dixie State.
"It's important to keep in mind that basketball is just a part of my life; it's not my life," she said. "Keeping that balance between everything helps me remember that each area is as important as the other.
"Basketball has helped me in the other aspects of my life, teaching me lessons. I wouldn't trade the things I've learned about teamwork, discipline and hard work for anything."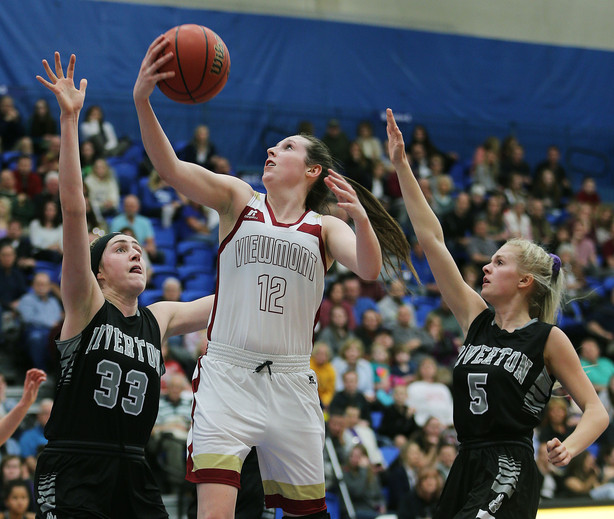 5A MVP: Mercedes Staples, Viewmont
A versatile guard, Staples finished in the top-10 in scoring (17.4 ppg), assists (4.2 apg) and steals (2.3 spg) to help the Vikings to the 5A championship game before a 50-46 loss to American Fork.
4A MVP: Madison Grange, Skyline
The No. 3 scorer in 4A, Grange averaged 16.4 points, 5.2 rebounds, 2.4 assists and 2.5 steals per game while lifting the Eagles to the 4A title with a 60-57 overtime win over Judge Memorial.
3A MVP: Becca Curran, Juan Diego
Curran averaged 10.1 points and 3.0 steals while commanding the Soaring Eagle offense to the 3A state title.
2A MVP: Peyton Torgerson, North Sevier
The 5-foot-11 Torgerson had 18 points, nine rebounds, five assists and five steals to lift the Wolves to a 49-45 win over Emery in the 2A state title game. Torgerson scored 15.8 points per game, the third-most in Class 2A, and will continue her basketball career at Southern Utah.
1A MVP: Danielle Brinkerhoff, Bryce Valley
The multi-talented Brinkerhoff averaged 10.0 points, 4.0 assists and 2.1 steals per game while leading the Mustangs to their first girls basketball state title in school history.
Photos
Related Links
Related Stories
0 Pending Comments
Sorry, we are not accepting new comments on this story, but if you have more to contribute please email
newstip@ksl.com
Showing of 2 comments
Sorry, we are not accepting new comments on this story, but if you have more to contribute please email
newstip@ksl.com