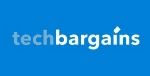 This story is sponsored by TechBargains.
Welcome to TechBargains' Weekly deals where they feature the best current deals on electronics, computers, TVs and more. Act fast as stock is limited and these discounts will not last.
Vizio's M-series TVs are a top pick on CNET and The Wirecutter. For $900, you are getting a highly rated big screen 60" TV with a theater style tablet remote. The TV itself is 4K ready and will handle sports and gaming readily with its 120Hz refresh rate. Lastly, it includes a $300 Dell gift card, which is more than enough to get you a Free PS4 or Xbox One.
This is the lowest price on one of the best selling laptops we've seen this year. At $519, it is a beast of a value for a laptop with a powerful i7 processor and a 1080p display. For all these features, a fair price to pay would be $650 and with this deal, you are paying over $100 less than that.
Taxes are due on April 18th and if you haven't started, you can still save on tax prep software. TurboTax is our favorite and we've used it for about 10-years to file our taxes. There are cheaper options, but TurboTax is the easiest to use.
The HD Fire 8 is the perfect size to watch movies and surf the web while still being portable. At $70, it is a great alternative to watching videos or even reading off your phone without spending a few hundred on an iPad.
This car fuel cleaner promises to restore power, improve fuel economy and enhance operation. We tried it out on a car with more than 70,000 miles and were surprised to see that it did smooth rough acceleration. Jury is still out on fuel economy, but so far we are impressed that it did make a difference for such a small amount of money.
Heating pads are an excellent way to help with sore muscles and cramps. It can help improve circulation and healing in a way that anti-inflammatory pills might not. At under $5, this is a steal, as you might expect to pay closer to $10 if you bought it in-store. We say buy it and have it on hand now so you don't have to pay full price when you do need it.
0 Pending Comments
Sorry, we are not accepting new comments on this story, but if you have more to contribute please email
newstip@ksl.com
Showing of 0 comments