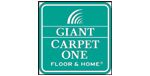 This story is sponsored by Giant Carpet One Floor & Home. The one store for your perfect hardwood, carpet, laminate, vinyl or tile floor!
You may be considering mixing and matching flooring but wonder if it is actually OK to do so.
Great news! Contrary to what you or others might think, it is perfectly OK to mix and match flooring. Here's why and how to make it work.
Define your space
The simplest way to mix and match any flooring is to do it in already-defined spaces. However, if you have an open plan home without a defined space, this can be a little more challenging, but can also bring a more structured look to your home.
By putting in different floors say, in the great room than in the kitchen, or in the entryway and hallway, you can define those spaces. Doing so might even say to your children, "Hey, food belongs where the tile is, and not anywhere near carpet," minimizing emergency carpet care on the daily.
Keep it simple
While defining areas is great, having too many floor transitions within the same line of sight can turn your home into a patchwork quilt — and not in a good way.
A good rule of thumb is not to have more than two types of flooring visible in your home at one time. However, if you must have three sections, a way to do it is to start with one flooring, transition to another, then return to the beginning floor pattern in your third area. This will keep continuity while avoiding the busy puzzle pieces look.
Create a focal point design
Now that we told you to keep it simple, how about we contradict ourselves by saying that you should throw a design in there? While simplicity will create subtle transitions, creating a design focal point in your floor with different floor products will create a statement that will not soon be forgotten — in a good way,
Pick a floor that complements the other
When choosing new flooring, you don't want it to be too matchy-matchy, and you also don't want it to clash. A great way to do this is to pick flooring that compliments your existing one.
For example, if you have a dark floor in your family room area and want to add tile in the kitchen, perhaps choose a diamond pattern with one tile color being an off-white, and the other picking up one of the brown hues from your existing wood flooring. This way, it gives the floors enough contrast, while still complimenting each other.
When combining wood floors, specifically older flooring with new, you should try matching the faded tones of the existing floor to new products being installed. However, if matching proves difficult, installing t-molding in the transition area will help divide the space.
Create a border
Maybe you want to go bold in your floor change, and transitioning from your existing flooring to the new one would just look unnatural. That's when creating a border or outline comes in.
For instance, if you have a medium brown tile in one area, and want to add a lighter tile in the joining area, consider adding a border of dark wood that complements both colors in between the two floors, or a tile pattern that takes in both colors.
If you have hallways that separate one room from the other, this is a great way to mix and match flooring in a natural transition area. Defining borders will create a natural transition and cohesive look.
Now that you know that it is not only OK to mix and match flooring, but highly encouraged, go to Giant Carpet One to get all you need to create the perfect flooring design you're looking for.
0 Pending Comments
Sorry, we are not accepting new comments on this story, but if you have more to contribute please email
newstip@ksl.com
Showing of 2 comments
Sorry, we are not accepting new comments on this story, but if you have more to contribute please email
newstip@ksl.com