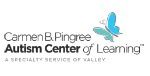 This story is sponsored by Carmen B. Pingree Autism Center of Learning.
This April, Autism Awareness month, the Carmen B. Pingree Autsim Center of Learning is helping to raise awareness and funds with the Blue Your 'Do campaign. With a $10 donation, or 3 for $20, you can receive a blue hair extension at a participating salon near you. All funds go towards Pingree Center scholarships for tuition. For more details, visit the Pingree Center on Facebook.
What is Autism?
It is estimated that approximately 16,000 children in Utah are diagnosed with autism based on the most recent prevalence studies conducted by the Center for Disease Control. The study also indicates that only 38 percent of children with a diagnosis of autism received a comprehensive developmental evaluation by the age of 3, even though symptoms are often present and observable between 12 and 24 months of age. Supporting an individual with autism through the lifespan can be extremely expensive and can potentially cost up to 2.4 million dollars. The annual cost of autism services that are being provided in the United States is estimated at $236 billion. Supporting an individual with autism is very expensive, but if a child receives intensive evidence-based early interventions, these costs could be cut by up to a third.
Early Intervention
The benefits of early intervention are not only financial. Early intervention leads to better lifelong outcomes in the areas of language, social skills, adaptive skills, daily living skills, and academic skills. These services provide the opportunity for more progress early on, leading to greater success through adulthood and requiring less long-term support. If an individual is able to acquire the skills to live independently as an adult, they will not require supported housing services throughout the lifespan. Similarly, if an individual is able to develop academic skills that enable them to attend college or receive vocational training that enable them become employed in adulthood, they require less support through the lifespan.
Without early intervention and the opportunity to make this progress, these individuals do not meet their full potential, they require more support for daily living activities, and they require more funding to help provide the services they need.
Awareness of autism is critical to close this gap for children who have autism and make it possible for them to access evidence-based interventions as early as possible, meet their potential and become more independent and successful throughout their lives. This also helps with increasing autonomy, self-esteem, and their personal connection with the communities in which they live, which is so important for everyone to feel whether they have a disability or not.
0 Pending Comments
Sorry, we are not accepting new comments on this story, but if you have more to contribute please email
newstip@ksl.com
Showing of 1 comments
Sorry, we are not accepting new comments on this story, but if you have more to contribute please email
newstip@ksl.com