SANDY — Back in his younger days, Chris Wingert was just a pre-teen ball boy for the Saint John the Baptist High School soccer team in West Islip, New York.
He liked soccer, but the idea of playing professionally full time wasn't instilled in him. Then he met a player who convinced him to play in high school — and now, as a veteran defender with Real Salt Lake, the rest is history.
That player, Wingert recounted Wednesday afternoon, was Mike Petke — the former New York Red Bulls head coach and now first-year head coach of Real Salt Lake. That's right; two Long Island natives were back together on the Wasatch Front.
"Mike is a guy that I've looked up to for a long time, since I was a little kid," Wingert said after RSL introduced Petke at a press conference Wednesday. "From afar, I've admired his coaching career as he was so successful with the Red Bulls, then with the Monarchs and now as our head coach."
Petke became the fourth head coach in RSL club history, replacing Jeff Cassar, who was fired just three games into the 2017 season after a winless start and just one goal scored.
But the former New York/New Jersey MetroStars standout wasn't completely unfamiliar with the Intermountain West. In between stints with the Metros, D.C. United and the rebranded Red Bulls, Petke also spent time with the Colorado Rapids among his 351 career games in Major League Soccer.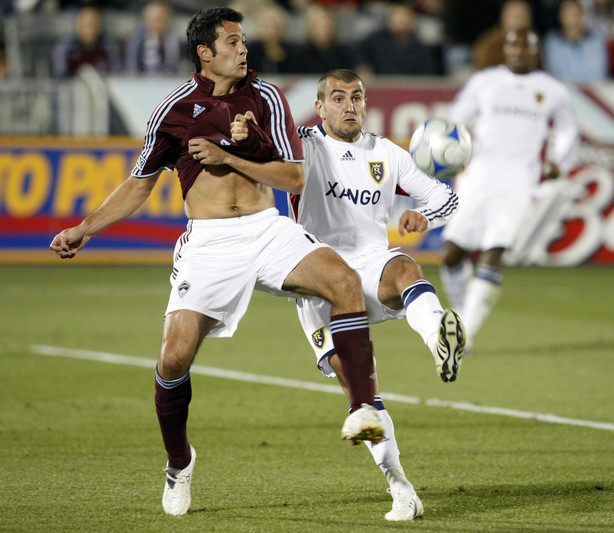 While there, he played with RSL captain Kyle Beckerman (he still remembers the day that RSL "stole" Beckerman from the Rapids in a stunning trade) — and a certain former ball boy from Long Island.
"I lived in Colorado for four years, and still own a house in Colorado," Petke said. "It reminds me a lot of this area, and this way of life in Salt Lake. It's not that big of an adjustment to me.
"Going to Colorado, though, was night and day."
A proud New Yorker by birth, Petke made the move to New Jersey at the behest of his wife Kim, herself a former athlete. The couple took a chance in moving west, but haven't regretted the decision. And with Petke's nomination to the RSL head post official, Kim Petke immediately began shopping for a house to put down roots in the Salt Lake area.
"It was very important that she was here, so she could enjoy this with me," Mike Petke said of his wife. "It's been an interesting couple of years for me, but the most important thing is family.
"Happy wife, happy life."
The change won't be easy for two New Jersians living farther west than ever before. Nor will it be in acclimating to Real Salt lake, where Petke faces the uphill task of turning around a franchise that hasn't won a match since Aug. 26 — a run of 11-straight matches, including the first four weeks of the season.
But taking the RSL job wasn't about being easy, owner Dell Loy Hansen said. It was about change.
"Change is opportunity," he said. "Real Salt Lake is a great franchise, and it is willing to go through the door of change to see if there is a better future, a bright opportunity and to see if we can get to a new height."
A lot has changed at RSL since the club won the 2009 MLS Cup championship. Former coaches Cassar and Jason Kreis have now moved on, as have former general manager Garth Lagerwey and club president Bill Manning — not to mention the sea of one-time fixtures on the field like Javier Morales, most recently.
Even Wingert is back with his second stint with the club, after christening then-expansion side New York City FC.
But having a one-time idol like Petke in charge isn't a bad thing.
"Mike knows this without having to discuss it, but he has my respect and he's always had my respect," said Wingert, 34. "That's not going to be an issue; playing for guys that you played against is just part of the natural progression."
Petke's first day in charge of RSL will come Monday, after interim manager Daryl Shore finishes his run at newcomers Minnesota United FC. After that, the goalkeeper coach will rejoin the technical staff with current assistant Tyrone Marshall and Freddy Juarez.
If the past is to be believed, though, Wingert believes RSL is getting the right head coach.
"Mike's a really hardworking guy, a hard-nosed defender when he played — but also a really skillful defender," Wingert said. "I think that's something he will bring as a coach, and that's probably the reason they had so much success in New York."
Success he hopes will come to his current club in Sandy.
RSL hires Petke
Photos
Related Stories
0 Pending Comments
Sorry, we are not accepting new comments on this story, but if you have more to contribute please email
newstip@ksl.com
Showing of 3 comments
Sorry, we are not accepting new comments on this story, but if you have more to contribute please email
newstip@ksl.com