SALT LAKE CITY — Saint Mary's was not going to back down in their second-round tournament game against Pac 12 champion Arizona.
They couldn't afford to; the Gaels suffered early in the West Coast Conference tournament final, and it led to their third-straight loss to Gonzaga, the top seed in the West region.
So they didn't; Jock Landale connected on his first five shots for 10 points, and the Gaels led 22-12 with 5:07 left in the first half.
"We weren't going to be afraid," said Saint Mary's senior Joe Rahon, who finished with six points and eight assists. "Going in, we knew we were a good team and we thought we should win. We weren't going to back down; we're always going to throw the first punch."
Then the comeback started.
Lauri Markkanen capped a furious rally in the latter stages of the first half with a dunk, and Arizona was within one, 30-29 at the break.
Suddenly, Saint Mary's fast start had evaporated. But they knew that was going to happen, too.
"They're a good team, and you won't blow them out," Rahon said. "But throwing the first punch was important to us.
"They're athletic; they're a two-seed for a reason. We fought, and just wish a few more shots went in and it could've been closer."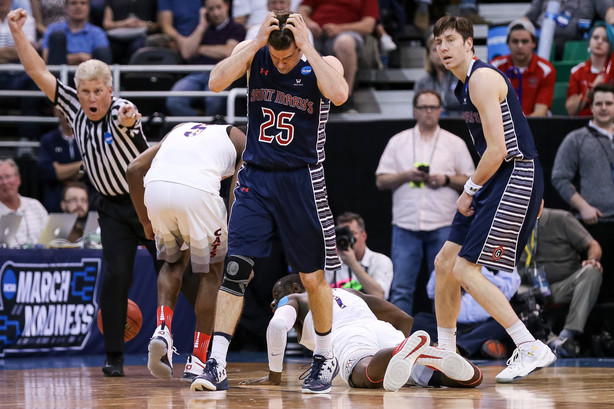 Allonzo Trier scored all 14 of his points in the second half, and Markkanen had 16 points and 11 rebounds to lead the No. 4 Wildcats past the 22nd-ranked Gaels 69-60 Saturday night at Vivint Arena.
Arizona made 3-of-4 3-pointers in the second half, including a dagger from Markkanen after Trier paced an 11-2 run with seven-straight points to start to pull away.
Saint Mary's, meanwhile, was just 5-of-21 from 3-point range.
"They'll give you threes, but they're flying at you when you shoot them and they're pretty athletic, so they can get a big hand up there," said Gaels coach Randy Bennett, the 2017 WCC Coach of the Year. "We had some open ones we needed to make. Sometimes the game comes down to it."
For more than a brief moment — about three-quarters of the game, even — Saint Mary's looked to be on the verge of advancing to their first Sweet 16 since 2010.
Instead, the Gaels fell in the second round of their first NCAA tournament since 2013.
"This season was everything," Rahon said. "Being in my fifth year and the first time making the tournament after the heartbreak of last year, it made this even more sweet than it would've been if we had made it this year and last year."
Rahon is one of just two seniors on the Gaels' squad that won't be eligible to return for next season, alongside Dane Pineau, who had five points and four rebounds. The Gaels should return the rest of their starters, including juniors Landale, Calvin Hermanson and Emmett Naar; and sophomore center Evan Fitzner.
---
I'm blessed and honored to be able to play with this group of guys. You won't find a more unselfish team in the country. It was so much fun, day in and day out, being with them; I'm really going to miss the guys. I couldn't have asked for more.
–Saint Mary's guard Joe Rahon
---
So there are some silver linings from Saint Mary's loss.
"There are a lot of silver linings for this tournament," Bennett said. "These guys got to participate in the best tournament. At the end of the year you're playing the 68 best, and advance to the final 32. That experience is so valuable."
The Gaels also return freshman Tanner Krebs, who hit 3-of-5 from deep and finished with 12 points in 17 minutes off the bench. In all, Saint Mary's returns 49 of the 60 points scored in the second round.
"For Tanner to play that well, I mean, he played exceptional," Bennett said. "He looked like a real player in this tournament. I was really happy for him. I was glad that he could, when the lights were on in this big a stage, be able to step up and play under pressure."
Still, this year's squad will always be special for Rahon, a fifth-year senior who watched in agony as his team was passed over three-straight years on Selection Sunday and pushed into the NIT.
"It hurts now, but in the next days and weeks when we look back on the year, it was a pretty special year," Rahon said. "I'm blessed and honored to be able to play with this group of guys. You won't find a more unselfish team in the country. It was so much fun, day in and day out, being with them; I'm really going to miss the guys. I couldn't have asked for more."
Related Story
Photos
Related Stories
0 Pending Comments
Sorry, we are not accepting new comments on this story, but if you have more to contribute please email
newstip@ksl.com
Showing of 2 comments
Sorry, we are not accepting new comments on this story, but if you have more to contribute please email
newstip@ksl.com