PROVO — Just like in men's basketball, no in-state team will represent Utah in the NCAA Women's Basketball Tournament, which kicks off this weekend.
But three teams will continue playing into the postseason.
BYU (20-11) earned the West Coast Conference's automatic berth to the Women's NIT after regular-season champion Gonzaga clinched an automatic bid in the NCAA Tournament via the WCC Tournament title. The Cougars will face Washington State (12-19) in the tournament's opening round Thursday at 7 p.m. MDT.
Broadcast plans will be announced closer to game time, but with no television partner for the WNIT until the championship game on CBS Sports Network, it seems likely that BYUtv will be able to pick up the contest.
BYU has received 13 postseason tournament bids under head coach Jeff Judkins, including five WNIT berths. The Cougars most recently qualified for the WNIT in 2012-13, when they advanced to the third round before a loss to Saint Mary's.
Washington State received the Pac-12's automatic bid to the WNIT after finishing as the top team that did not receive an NCAA invitation.
All games of the WNIT are played on campus sites, with the championship game airing Saturday, April 1, on CBS Sports Network.
The winner of BYU-Washington State will face the winner of Wyoming and Seattle in a second-round matchup. If BYU advances to the third round, the Cougars could face a familiar opponent.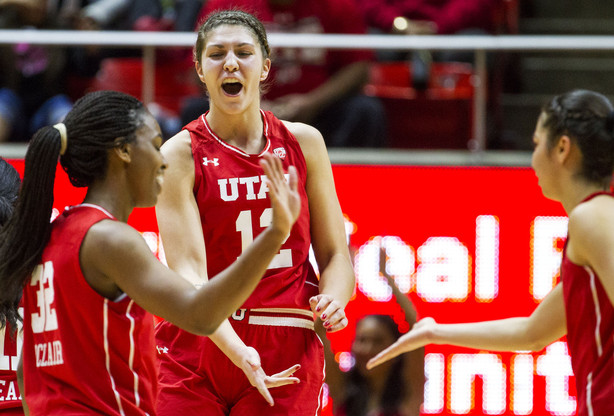 Utah accepts WNIT bid
The Utah women's basketball team received an at-large bid to the WNIT, marking back-to-back seasons under second-year head coach Lynne Roberts that the Utes have received a postseason berth.
The Utes will face UC Davis at 6 p.m. MDT Friday in the Huntsman Center. The Aggies (23-7) went 14-2 in Big West Conference play after a 9-5 non-conference slate, mirroring the Utes (16-13) that finished 5-13 in Pac-12 play.
The winner will advance to face the winner of Colorado State-Saint Mary's, with a matchup against BYU's quadrant in the third round.
Yes, BYU and Utah could face each other in the third round of the WNIT. The Utes handily defeated the Cougars 77-60 in the Huntsman Center last Dec. 10.
Utah State heads to WBI
Not to be overlooked, the Utah State women's basketball team received its second postseason invitation under head coach Jerry Finkbeiner with a Women's Basketball Invitational matchup Wednesday at 6:30 p.m. MDT at Idaho.
The winner of the Aggies (17-14) and the Vandals (17-14) will face the Texas State-Eastern Washington winner in the second round.
Idaho leads the all-time series 13-12, but the two squads haven't faced each other since the Western Athletic Conference tournament semifinals in 2013.
Related Stories
0 Pending Comments
Sorry, we are not accepting new comments on this story, but if you have more to contribute please email
newstip@ksl.com
Showing of 0 comments