LAS VEGAS — Jalen Moore gave Utah State basketball fans one final gift Thursday afternoon.
It would be his last in an Aggie uniform.
The senior from North Logan scored 14 of his career-high 27 points in the second half as the Aggies fell to top-seeded Nevada, 83-69 in the quarterfinals of the Mountain West Conference tournament at the Thomas & Mack Center in Las Vegas.
"I was just trying to be aggressive, play my game, and keep the game close. I wanted to lead the team, be the senior leader," said Moore, who also had four rebounds, three assists and two steals. "I obviously didn't want the season to end. I just wanted to take open shots and play as consistently as possible."
Cameron Oliver led Nevada (26-6) with 19 points and 11 rebounds, and Jordan Caroline had 22 points and eight rebounds for the Wolfpack.
Freshman Koby McEwen — who scored a Utah State freshman postseason record 27 points in Wednesday's first round — had 17 points, seven rebounds and six assists for Utah State, but shot just 4 of 15 from the field. Fellow freshman Sam Merrill had nine points with a pair of triples, and Quinn Taylor had eight points and eight rebounds for the Aggies (14-17).
"Our guys did a really good job to start the game," Nevada coach Eric Musselman said. "The execution on our offensive script to get the lead we got, and then we have to give Utah State a lot of credit for their run, coming right back at us.
"But our bench gave us good energy and great effort off the bench."
Thursday didn't get off to a great start.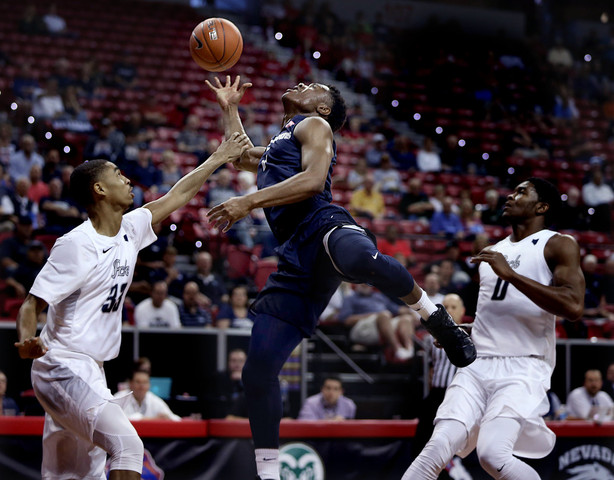 Caroline drained a stepback 3-pointer with 15:52 to go until halftime as the Wolfpack started with a 14-2 early lead. The sophomore from Champaign, Illinois, made his first three shots from the field, and Nevada showed early why it boasted the top-seeded team in the tournament even with a slow start from standout guard Marcus Marshall.
"When you are the No. 1 seed and expected to advance, we were hoping they would feel pressure," Utah State coach Tim Duryea said. "But the start they had was really good. They played extremely well, and we needed them to have a slow start … and they didn't do that."
After a brief timeout, the Aggies unlocked their offense. McEwen capped a 13-2 run to pull within 16-15 by finding Moore for a 3-pointer from the corner with 11:29 left in the first half.
"I was thrilled after we survived the first run," Tim Duryea said. "They came out of the gate, and I knew there were no jitters or issues I might've hoped there would be. To weather that storm and get back into the game, I thought it was anybody's game."
Utah State never led in the game, and Marshall scored eight straight as part of an 11-2 run to take back control. Leland King II added back-to-back threes to push the lead back to double digits, 31-21, with 6:49 left in the half, and the Wolfpack held the Aggies to nine first-half field goals, 15 first-half rebounds and posted four first-half blocks en route to a 45-28 halftime lead.
"We needed it," Oliver said of King and the bench. "Coach Muss always talks about how we need bench productivity, and they brought it. We all know what Josh and Leland are capable of, and it was a good time to do it."
Utah State added a 7-0 spurt at the start of the second half. But the Aggies could do little more than exchange buckets with the Wolfpack, and Nevada kept a 57-44 lead at the 13:16 mark of the second half on Oliver's vicious dunk.
Still, Moore did all he could to keep his final season with the Aggies alive. The former Sky View High standout scored seven of the Aggies' nine points bridging halftime, but it wasn't enough to avoid elimination from the Mountain West Tournament.
"Their bench players came in and did some things we weren't expecting them to do," Moore said. "That's tournament basketball; everyone is playing their best. They hit some threes, played defense, and that's pretty much it. The bench took over in different roles, and we couldn't get back into it."
McEwen pulled the Aggies within 13, 77-64, on a 3-pointer that capped a 9-2 run with 2:40 left. But Utah State could get no closer and finished with its first losing season since 1992-93.
"Good teams overcome adversity in a lot of different ways," Duryea said. "They got two key guys in foul trouble, and the game should swing our way. But the game went their way. I think that was the game in a nutshell. Instead of us going into halftime with a lead or confidence, they had more confidence than they had to start the game."
Photos
Related Stories
0 Pending Comments
Sorry, we are not accepting new comments on this story, but if you have more to contribute please email
newstip@ksl.com
Showing of 0 comments