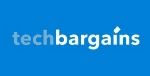 This story is sponsored by TechBargains.
Welcome to TechBargains Weekly deals where they find the best deals of the week to save you time and money. Act fast as stock is limited and these discounts will not last.
Normally we would say a 55" TV with 4K resolution is a good price at $550. When Dell throws in a $200 gift card, this deal is incredible. After you use that gift card on anything Dell sells from computers to Bose headphones you effectively discount a 4K TV down to $350.
Use coupon code AFFLT549. The $549 Dell laptop offers the perfect combination of affordability and performance. This Inspiron 5000 series laptop features a fast Intel Core i7 processor, 1080p full high definition display, 8GB RAM, Windows 7 Professional (also includes Windows 10 Pro license) and AMD Radeon R5 discrete graphics. For all these features, we would expect you would pay north of $650 on sale.
Use code: J5Y7EV7O. This inexpensive solar panel uses a SunPower solar cell with a higher-than-average 23-25% efficiency. It gets very close to its 100W rating and reviews love this for its lightweight and flexible design. This gives you far more versatile ray catching options wherever you are. It has an internal diode which prevents reverse current drains at night when it is not actively charging. Many use this for their own solar-powered projects, on outdoor trips, and on boats.
For $110, the HTC Desire is a pretty good deal. It uses the newer Android 6.0 operating system, has a big 5" display and includes an 8MP rear camera. T-Mobile includes the $100 T-Mobile refill card so you are basically just paying $10 for this phone. T-Mobile prepaid plans include unlimited data, talk and text. Prepaid plans start at only $40 for 3GB of 4G LTE speed data which drops down to unlimited 3g speed when you hit the limit.
At only $700, you are getting a very premium laptop which has everything you would want if you were considering an Apple laptop. This comes with excellent build quality, premium aluminum construction, the newest Intel Kaby Lake processors and an ultra portable 2.6lb weight. You don't need a password with this laptop since you can simply use the built-in fingerprint reader to log in. The zippy solid state drive technology will allow you to boot up, launch programs and open files in a flash.
Amazon lists the weight at 4lbs, however, we've double checked this laptop on ASUS' website and it is indeed the 2.6lbs. For those of you not familiar with ASUS, they are known for making high-quality laptops for other companies (like Dell) but have struck it on their own creating premium laptops and savings on costs by skipping out on traditional advertising.
Reel in your messy cables with MasterPlug's cord storage reel. Starting at only $20 you can get a reel that fits up to a 50-foot cable with 4 built-in outlets. There are different form factors including a 30-foot cassette reel that you can wall mount or longer lengths up to 80 feet which are great for power tools.
Use coupon code: FTBODJA5. Quickly check the temperature with this little infrared temperature gun. See how hot your grill is running, the temperature of spa water or let your pets chase the red laser around for fun. One feature this has that you won't find in other non-contact temperature guns in this price range is the ability to adjust the emissivity settings.
There's no telling when you will need an extra table. Whether it's for a barbecue, an extra work desk or you just need to set up a table this is a great little deal for only $40. This is light, compactly folds in half and even has a handle to make it easier to carry. We've bought these for big family gatherings and couldn't be happier. Easy to clean, compact to store and light enough to carry around without hurting your back.
Spring is just around the corner and for allergy sufferers, there's no better time than to get your air purifier now. This Winix has a true HEPA filter which will capture airborne pollutants, dust mites, pet dander, pollen and other allergens as small as 0.3 microns. To get rid of odors, there is a carbon filter that you can remove and wash. Lastly, Winix's PlasmaWave technology breaks down odors, allergens and other indoor pollutants without emitting any harmful ozone.
0 Pending Comments
Sorry, we are not accepting new comments on this story, but if you have more to contribute please email
newstip@ksl.com
Showing of 3 comments
Sorry, we are not accepting new comments on this story, but if you have more to contribute please email
newstip@ksl.com