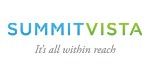 This story is sponsored by Summit Vista. It's all within reach.
In an ever-changing world, one thing is certain — everyone gets older, and older, until one day they become old. At what age this happens for you might be different for everyone, but there's no arguing against having a plan for the future. What should this plan include? Retirement is a big word that encompasses many concepts and to-do lists, but near the top should be a viable living space that works for your health needs and lifestyle preferences. Few people end up in a senior care facility because they want to, and many more have the potential to live happy and fulfilling lives on their own for years to come. The key is finding a place that fits your needs. Unfortunately, more and more Americans are finding it difficult to obtain affordable housing in their golden years.
While many communities are devoted to in-home care for seniors, what's happening to all the healthy and active adults over 55 that also need a place to live? There is the option of staying in your suburban home, but since these communities aren't exactly geared toward a thriving senior life, many people feel caught. Amid extended life expectancies and government subsidies and other programs falling short, an extreme number of the growing elderly population is discovering just how difficult it can be to find affordable housing that matches their lifestyle needs. In essence, the lack of affordable senior housing exists now but will become catastrophic in 20 years when the population over the age of 65 will reach 79 million.
But what's being done about dealing with the very real needs of these growing numbers of people? Not enough, according to op-ed writer for The New York Times, Allison Arieff.
"Some progress has been made in rethinking (senior housing) facilities...yet the unease about where one will end up…is not at all unfounded," she wrote.
Arieff points out that although solutions exist for some, there's definite reason for worry, particularly for the middle class and those who can't get funding.
"Better housing for older people exists at the lowest and the highest ends of the economic spectrum — for those who can afford luxury options and those who qualify for aid," she wrote.
In addition, the sheer number of growing senior citizens is likely to overwhelm a market that doesn't seem to be catering to them in the first place.
What are some solutions or remedies to this growing issue? Arieff discusses anything from naturally occurring urban retirement communities to modern-day co-housing and even technology. She then points out that companies aren't the only ones to benefit by capitalizing upon such a growing niche and population. Helping to create more affordable and flexible senior housing benefits everyone in the long run.
If you or someone you know is considering staying put in your home, realize that this isn't an option for most people. The Harvard Joint Center for Housing Studies joined with AARP to release a recent study that shows how the world at large is ill-prepared to address the housing needs at hand. Not everyone is able to keep their homes as they age — whether for financial reasons, health needs, or otherwise. The wise thing to do, then, is to consider all housing types that will keep people active, happy, and within their spheres of comfort. In the end, increased longevity combined with reduced housing availability offers a perfect storm for lack of suitable housing. Still, it's evident that the more citizens plan and increase interest in the appropriate communities, such ventures will grow and replicate. The important thing to remember is that options exist, even now.
Seniors wishing to maintain independence and a flourishing social life can do so by finding the right place for them, such as Summit Vista. Active adults might be part of a growing population looking for housing solutions, but that doesn't mean they need to resign themselves to the "retirement community" mentality. Visit summitvistalife.com to plan the future you want, today.
0 Pending Comments
Sorry, we are not accepting new comments on this story, but if you have more to contribute please email
newstip@ksl.com
Showing of 6 comments
Sorry, we are not accepting new comments on this story, but if you have more to contribute please email
newstip@ksl.com