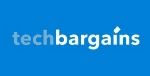 This story is sponsored by TechBargains.
Welcome to TechBargains Weekly deals where they find the best deals of the week to save you time and money. Act fast as stock is limited and these discounts will not last.
This Surge II Transit backpack is specifically made to help you through TSA screenings, you won't have to struggle next time you're in line. Simply open it up and the design will lay flat as it goes through the x-ray machine. Loads of other features such as mesh padding and back-vent channels for air circulation, foam padded straps and more make it irresistible. With a 32L capacity, it makes a great commuter backpack as well.
At a clearance price of $539 this bestselling laptop has everything you want in a computer: a powerful processor, a sharp full HD screen and it even includes the Pro version of Windows. $650 would be considered a fair price, and at $100 less than that, it's worth getting right away.
This smart sprinkler controller reads real-time weather data to calculate just the right amount of water for your plants. In fact, it qualifies for the WaterSense certification for efficiency and performance. Check with your local water company and you may receive an additional rebate.
This power supply is full of options when it comes to charging. You can fill up using a wall outlet, a car battery and of course a solar panel. Take this little generator anywhere: camping, job sites, hunting or as an emergency backup. It even includes cables for jump-starting your car.
APC is known for their quality surge protectors and this wall mount version is no exception. Get up to 1080 joules of protection with 6 ports, and sockets coming out the side. A must if you live in a lightning-prone area, this clean looking protector is one of the best-rated units out there.
Taxes are due in a few weeks and the prices for services only get more expensive as April closes in. We highly recommend the best-selling TurboTax software for its trusted name. We've personally used it for about 10-years to do our taxes. The Deluxe version is best for most situations. If you have investment income such as rental properties Premier is the choice for you. And if you own your own business or are self-employed then Home & Business is for you.
Automatically track your weight and your full body composition every time you step on this scale. If you are serious about losing weight or gaining muscle this one can tell you your composition of fat, muscle, bone and water. The data automatically syncs with your devices to help you correlate trends with your training or diet.
0 Pending Comments
Sorry, we are not accepting new comments on this story, but if you have more to contribute please email
newstip@ksl.com
Showing of 0 comments