PROVO — BYU engineering professors believe they have created something that could revolutionize police officer safety: a shield designed after origami art.
Terri Bateman teaches mechanical engineering at BYU and is proud to show off a recent project she collaborated on.
"I mean that's what I love working on is practical inventions with real usage, and this is going to save lives," Bateman said.
The shield has already proved successful on the firing range. In a video produced by BYU, the engineering professors showed what it calls a successful test; several rounds fired from different calibers of handguns all stopped by the Kevlar shield.
It's a project that is generating a lot of buzz right now, especially among law enforcement.
"It is all flexible on these folds, but the rest of it is stiff material," Bateman said.
The engineering team designed it to quickly fold out and provide a safe barrier for police officers. The lightweight design, which weighs just 55 pounds, was created with 12 layers of Kevlar. It was put together using a design that has traditionally only been used with paper.
"Origami artists over the centuries have discovered really interesting motions, so we have been taking that and finding ways of using those really interesting things that artists have discovered and exploiting that in new types of applications," said BYU professor of mechanical engineering Larry Howell.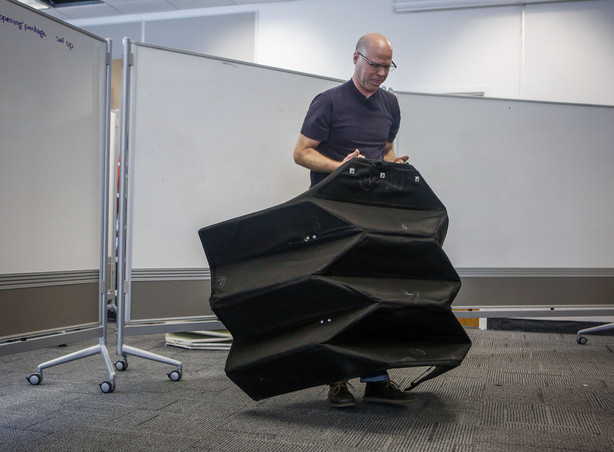 While the shield was successful with handguns, it's current design is not strong enough for high-powered rifles.
"We are a university research lab, so we have discovered ways to do this using origami, taking paper to make a bulletproof barrier, which took a lot of engineering," Howell said, "but now we need to work with commercial partners to commercialize it because that is not our role."
With patents pending and interested investors, the professors hope the shield will someday be easily accessible for law enforcement officers.
"This has really been exciting, the kind of project you like to do with students, to use the knowledge we have gained from our research and to be able to apply it in a real application that really has meaning and addresses an important societal need," Howell said.
Contributing: Viviane Vo-Duc


Photos
0 Pending Comments
Sorry, we are not accepting new comments on this story, but if you have more to contribute please email
newstip@ksl.com
Showing of 6 comments
Sorry, we are not accepting new comments on this story, but if you have more to contribute please email
newstip@ksl.com