SALT LAKE CITY — Two high school students are dead and two other individuals are in serious condition after a head-on collision Thursday, authorities said.
Emergency crews responded to a report of the crash near 300 West and 700 North at around 11:30 a.m., according to Salt Lake police detective Cody Lougy.
Lougy said three people were inside a blue Chevy Impala that appeared to be speeding when it lost control and crashed into a Honda Pilot head-on.
"One of our witnesses was crossing 700 North westbound and as he crossed and made his way through the intersection, he witnessed two vehicles — a blue Chevy Impala and some type of gray vehicle, unknown make and model pass him at a high rate of speed," Lougy said.
"As the blue vehicle passes (the witness), for some unknown reason, he loses control, jumps the median and hits a Honda Pilot head-on," Lougy said.
Two passengers, both males ages 17 and 18, inside the Impala were killed. The driver of the Impala, an 18-year-old, and the driver of the Pilot — a 32-year-old pregnant woman — were each taken a local hospital in serious condition.
Bret Udy was working at a nearby business when he said he heard the crash from his office.
"We were in there having a meeting and we heard a loud boom and it sounded like an explosion. We weren't sure what it was and we came out and saw that," Udy said, pointing at the wreckage behind him. "It looked pretty severe. We figured there was a lot of speed involved. We watched when the EMTs got here, they had to start cutting them out of the car. It was really terrifying and it was sad to see it."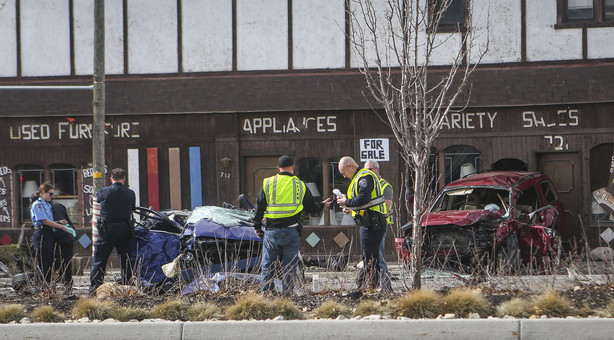 The woman's condition was upgraded to serious but stable condition Thursday afternoon, Lougy said. He added that the unborn child was also in serious condition, but had a "good heartbeat."
Police said the two killed were students at West High, which is located near the crash scene, and the driver of Impala was also a student at that high school.
All three were seniors at the high school, Salt Lake School District spokesman Jason Olsen said. Their names were not immediately released.
"I think it's very fair to say our hearts are broken over this tragic accident," Olsen said.
By the time classes were let out at 2:30 p.m., most of the students had heard about the crash — many learning through social media.
Only a few seemed to know who was involved in the crash, but students told KSL that several students were seen in the school halls crying upset that some their peers had been involved in the fatal wreck.
"I feel especially bad for their families because their parents woke up this morning and thought their kids were just going to go to school and have a good day at school. But instead they found out from the cops that their kids are never coming home," said Neo Archuleta, a student at West High.
School officials said all students will be informed of the crash by a phone call.
The crash remains under investigation, including the possibility of racing. Lougy said police were still interviewing witnesses.
Lougy said investigators believe the Impala was traveling at least 70 mph when it crashed.
"It's too early in the investigation, so that's something we're going to look at. We don't know if they were chasing each other or if it was a race or just a high rate of speed from both vehicles," Lougy said. "It's too early in the investigation to really determine the root cause."
Police are still searching for a gray or silver vehicle that may have been involved in the crash.
Police closed 300 West in both directions from 600 North to 800 North for several hours as they investigated. The road reopened shortly after 4 p.m.
Since 300 West is a big commercial road, Udy said it's not uncommon for drivers to speed on it. He said the crash caused him to rethink how he drives on the road.
Udy added that the end result of the crash was also weighing on him.
"Somebody just lost their kid today," he said, pausing briefly to compose himself. "It'd kill me if that happened to my kids."
Contributing: Shara Park, Pat Reavy and Jed Boal
Photos
0 Pending Comments
Sorry, we are not accepting new comments on this story, but if you have more to contribute please email
newstip@ksl.com
Showing of 115 comments
Sorry, we are not accepting new comments on this story, but if you have more to contribute please email
newstip@ksl.com