SOUTH JORDAN — Standing in a classroom at South Jordan Middle School, Chris Voorhees projected an old black-and-white photo on the wall. He asked the class if a man in the middle of the picture looks anything like the man in another picture — this one a confirmed snapshot of Utah bandit Robert Leroy Parker, better known as Butch Cassidy.
"I started doing comparisons of the scale and tried to get it just right," Voorhees told the students. "Everything was just lining up."
The social studies teacher walked his students through a project he devoted six months of research to. "It's a mystery. I've got to figure it out," he said.
He found the photo completely by accident.
"I found it on BYU's website. There is a George Edward Anderson collection with 10,000 digital pictures," he said. "I just happened to google 'Indianola picture' because I wanted to have some pictures for the house we're building, and up this photo popped."
It's a clear shot showing nine men standing around a rail line, holding shovels and staring somberly into the camera. Standing in the middle with his hat tipped back and a hand in his pocket is the man who Voorhees believes is Cassidy.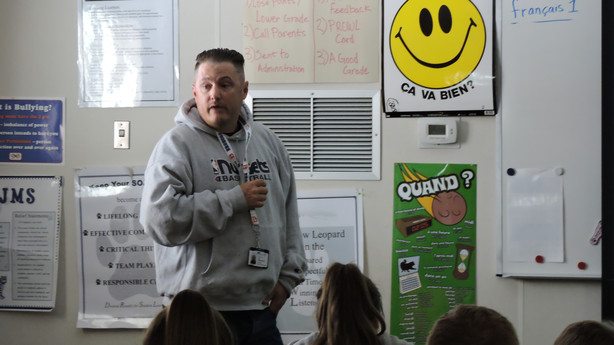 He isn't the first to wonder. In 1994, a Springville artist stumbled on the same photograph and made similar assumptions, but Voorhees said he's the first to really devote the time necessary to figure it out.
"I'll be honest, it would be cool if it were part of my family's history," Voorhees said, sitting at one of his student's desks.
A fellow teacher, Brett Freeman, joined Voorhees' research after noting another man in the picture looked like Harry Longabaugh, better known as The Sundance Kid. The men were part of a gang called the Wild Bunch, and were known for robbing banks and trains in the old west from 1889 to 1901.
Looking for outside help in solving his puzzle, Voorhees hired a forensic artist in California to compare the photo to other known pictures of both Cassidy and Sundance. In a six-page brief, Melissa Cooper determined both men were matches.

"I showed her pictures of other people in the group. Could it be this person or could it be this person?" Voorhees said. "She shot it down in seconds. With this one she said, 'yeah, we're on to something.'"
When comparing the group picture with a confirmed mugshot of Cassidy in 1894 and a photo of the men in 1900, even untrained eyes can spot some striking similarities — the same nose, eyebrow height and hairline, for example. But experts warn against relying too heavily on a snapshot.
"Anybody who haunts flea markets or auction houses knows you'll find photos of people who look like each other. You'll also find pictures of the same person who don't look like each other," said Daniel Buck, a Washington, D.C., scholar who has spent time in South America tracking Cassidy's movements before his supposed death in 1908.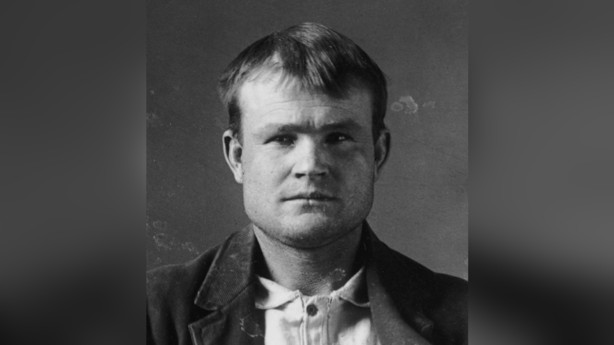 "Photos are very deceptive. Every photo is different. Anybody that says this photo and this other photo are identical doesn't know what they are talking about because every photo will be different," Buck said. "To say that a photograph is more significant than a signed document is absurd."
Voorhees has dated the picture back to October 1901. He said the photographer was a traveler. By looking at pictures from just before and after the railroad shoot, he was able to narrow it down. Buck said there is proof that Cassidy and Sundance had been in South America for months at that time, buying cattle and registering bands with their stolen money.
"What you have is several documents, some signed to them and some written to them, in this period," Buck said. "That's overwhelming evidence compared to a photograph that doesn't look like them anyway."
Buck argues the two wouldn't have had enough reason to visit Utah again, an area where they were well-known and wanted by the law, but he admits there are a lot of holes in the iconic duo's story.
"These guys were outlaws and they lived 100 years ago, and they have aliases and were often on the run and in hiding. So there's very little that we know for sure," Buck said. "Even what we know, half of it is wrong, and we're never quite sure which half."
Voorhees said even if he is proved wrong, it was worth the adventure. And with or without Cassidy, the teacher said the photograph is still pretty cool. ​
Voorhees and Freeman have created a GoFundMe account* to raise money for further research in the Library of Congress.
*KSL.com does not assure that the money deposited to the account will be applied for the benefit of the persons named as beneficiaries. If you are considering a deposit to the account, you should consult your own advisers and otherwise proceed at your own risk.
Photos

Related Stories
0 Pending Comments
Sorry, we are not accepting new comments on this story, but if you have more to contribute please email
newstip@ksl.com
Showing of 108 comments
Sorry, we are not accepting new comments on this story, but if you have more to contribute please email
newstip@ksl.com