SANDY — No matter where you look in Javier Morales' home, you see Real Salt Lake claret.
Walk in his office, and on the left, there are five photos of Morales, all in RSL red, with some of the legends of the game he's played against; David Beckham, Thierry Henry and more. Straight ahead, seven photos of some of his best moments as an RSL player: from his 2007 debut in Rice-Eccles Stadium, to winning the MLS Cup in 2009, to wheeling away for goals last season.
And then on the bookshelf to the right, Morales with his teammates meeting President Obama in the White House in 2010. The MLS Cup is held aloft by two hands: one of Morales' and one of Obama's.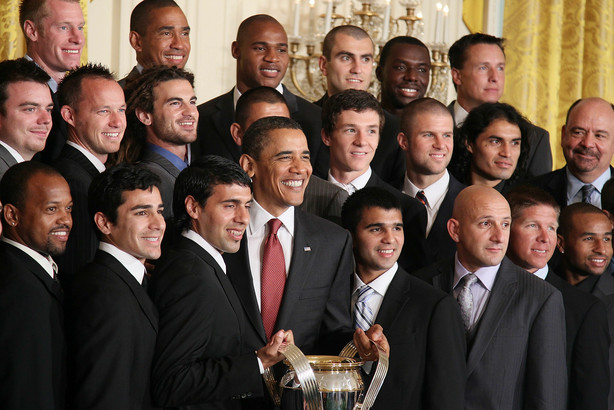 The photos are mementos of a 10-year stint with Real Salt Lake, on which he's made his name. The stats he's accumulated are remarkable: Morales is RSL's all-time assist leader with 81 tallied, more than double second-place Kyle Beckerman's 33. He is second in all-time goals scored for the club, with 49. He's made 240 appearances. In short, Morales is an RSL legend.
"Ten years for a team, it's almost your whole career," Morales said.
He says he won't be with RSL in 2017.
---
On Nov. 19, 2015, RSL announced it had signed Morales to a multi-year extension, later reported to be three years in length. "I want to finish my career with Real Salt Lake," Morales said in a statement. "Real Salt Lake is the most important team in my life. It's the team that didn't just make me a better player. The club made me a better person. I came here, and it was magic. Everything changed and everything was good for me and my family."
And the compliments were returned. "Every organization clamors and talks about identity," RSL general manager Craig Waibel said. "Keeping guys like Javier here who understand what this club has been through is important to that identity because for 10 years, Javi has helped establish (Real Salt Lake) and build a stadium and build a fan base and identify with that fan base. He really encompasses everything we are."
In that extension, though, there were stipulations. RSL had a team option on Morales' 2017 season, which it could decide to pick up (or not) at the end of the 2016 season. That option was automatically picked up if Morales started 24 regular season games.
After a roller-coaster 2016 season, coming into the final game in Seattle, Morales had started 23 games. He was left out of the starting lineup for what were explained to him as "tactical reasons". Morales started RSL's 3-1 playoff loss to the LA Galaxy, but that start did not count towards his team option.
"After that, I suspected that they weren't picking up my option," Morales said.
After the team traveled back to Salt Lake City, RSL's brass, including head coach Jeff Cassar and general manager Craig Waibel, held their annual end-of-season meeting with Morales. They informed him that they indeed wouldn't be picking up Morales' option.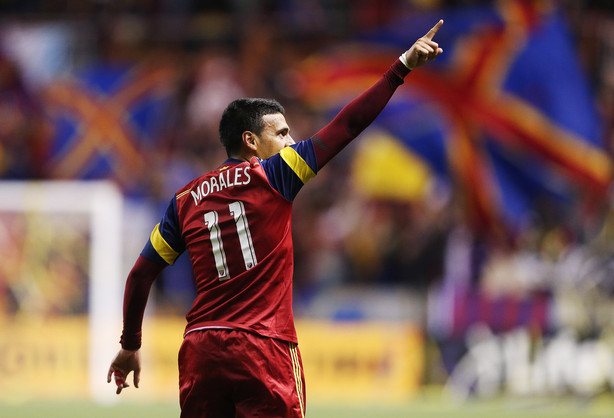 "But my thought was that they were going to offer me less contract, or something like that," Morales said. "So I asked them 'So, that's it?' And they said yes. They didn't offer me another contract or different contract."
RSL disputes that version of events. League website MLSsoccer.com spoke to Waibel, who explained the meeting like this:
"The conversation with Javi was very mature, he was fantastic in the conversation ... I think Javi felt at the end of the day that he may have an opportunity (elsewhere) to contribute on the field more than possibly he interpreted the conversation we had. ... And to be clear, I'm not shying away from anything, I believe that Javi's greatest role for our organization moving forward would've been coming off the bench. I still feel that Javier would be a remarkable asset for our organization if that's a role that he sees himself accepting and accelerating in."
Morales said that the meeting wasn't quite as Waibel described.
"We should talk about that. We should talk about contracts, time, numbers, everything. But I didn't have the opportunity. There wasn't anything to talk about," Morales said. "They were looking another way, is what they said. And that's it."
The meeting ended quickly, and Morales went back to his home.
"To be honest, after I left the room, I felt empty. I felt like there were questions in my mind all the time. Like, 'what?' To be here for 10 years, to dedicate 10 years to the club, that was tough."
He confirmed in a press conference Thursday that RSL "never offered me another role or another contract." Morales said no one from RSL contacted him in the week he announced his departure, until he announced the press conference Wednesday.
And Morales says that despite the meeting, he still wants to support RSL. "I'm always going to love the club, because they gave a lot to me. I would love to retire there, in Rio Tinto with a Real jersey."
"But that's not going to happen."
---
Morales has made Utah his home. His wife runs a business here; he has two children, nine and four years old. They've spent their lives in Utah. "My oldest one is 9 years old, and we've spent 10 years here. It's a lot of things to them: friends, clubs, school. That's the thing that's going to change right away. That's the tough part, to tell them 'we have to go.'"
He knows that this is the soccer life. Teammates and soccer friends tell him he's lucky to have spent this long in one spot, a rarity for a professional athlete. But he's only played for Real Salt Lake in the United States and has made connections to friends here.
"I'm going to miss almost everything. I'm going to miss the mountains. I'm going to miss a lot of things," Morales said. "Now, everything changed, so I have to move on."
When he announced his departure on Twitter, Morales says the fan outreach amazed him.
Dedicated to the RSL fans , to my teammates, my friends and to the people of Utah. You will always be in my heart. Javi Morales #11 pic.twitter.com/8lgutRAx5z

— Javier Morales (@javi_mo11) November 3, 2016
"Everything I got back from the fans, from the people, I was so grateful. I didn't expect that much. That was a lot," Morales said.
"The only words I can say to them is thank you. I'm not from here, from another country, speaking another language. What the club, the city, the fans, gave to me, and not just to me, to my family, I never can pay that back. I'm always going to owe something to this place."
He said he was especially honored by the response from his teammates, including Kyle Beckerman and Nick Rimando. He wants their departure from the club to be different than his own. "I wish them to leave the club with a game on the field. That is the best thing for a soccer player. Wear your jersey on the field and say goodbye to the fans. That is the best thing that can happen to a soccer player. And from my perspective, Kyle and Nick deserve something like that."
---
Morales doesn't know what's next for his playing future, but he knows he's not retiring.
"I don't want to retire. I want to retire when I feel that I don't help a team anymore."
So if he's not playing in Salt Lake, where? "I could play in Argentina, in Mexico, or here, I have to look for somewhere to play. In my opinion, my last three years were pretty good, even at 36 years old."
Under the new MLS collective bargaining agreement, Morales is one of the few players who qualifies for free agency status, thanks to his tenure in the league. Morales and his agent will collect offers from around the world, and they'll work together to figure out what his next move is.
"Now I don't have a team, so I can't be picky," Morales said.
But while Morales won't be returning to play with Real Salt Lake next season, he's not willing to close the curtain on returning to Utah.
"I'm pretty sure that one day I'll come back," Morales said. "I'm not sure doing what, but this is part of my life."
0 Pending Comments
Sorry, we are not accepting new comments on this story, but if you have more to contribute please email
newstip@ksl.com
Showing of 19 comments
Sorry, we are not accepting new comments on this story, but if you have more to contribute please email
newstip@ksl.com