SALT LAKE CITY — Jay Leno. Goo Goo Dolls. Neil deGrasse Tyson. Kathy Griffin.
Those are some of the performers slated to visit Salt Lake City during the George S. and Dolores Dore Eccles Theater's debut season getting underway Nov. 2.
City and county officials announced the theater's 2016-17 lineup Thursday, while unveiling the lobby of Salt Lake City's newest performing arts center.
The 2,540-seat theater at 131 S. Main has been years in the works.
"It's been decades coming," said Justin Belliveau, interim director of the Salt Lake City Redevelopment Agency. "This project has always been about bringing more people to downtown Salt Lake City to experience the arts, discover something that resonates with them. … We're confident that with the completion of this beautiful facility, we're poised to do just that."
Former Salt Lake City Mayor Ralph Becker got the project started more than six years ago, after city and Salt Lake County leadership spent years grappling over whether to take on the task.
Now, after years of construction, more than $37 million in private donations and $90 million in bonds, the $129 million Broadway-style theater is poised for its first season.
While the doors of its 2,400-seat Delta Performance Hall and the more intimate 140-seat Regent Street Theater remained locked Thursday — reserved to be unveiled at an Oct. 21 grand opening event — theater officials showcased the theater's sleek, bright lobby, featuring colorful glass decor and sweeping windows.
Belliveau said the theater is helping fulfill the vision of expanding the county's performing arts scene and evolving the city's downtown. He said the theater is already breathing life into Regent Street.
"A huge part of this project is shining a light on Regent Street, rebuilding it," Belliveau said. "We're already seeing it — new restaurants opening up on the block. … We expect full retail development all the way down the street."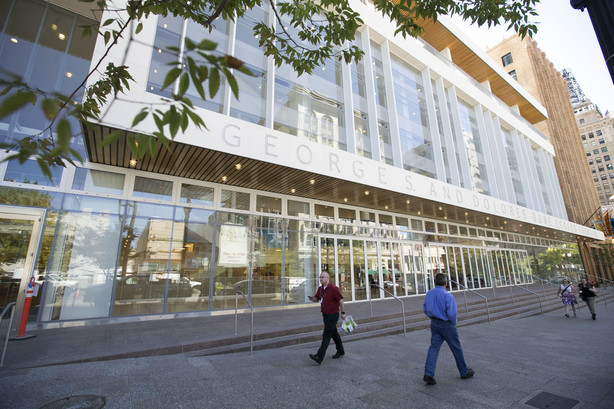 Belliveau said city officials expect about 10,000 season ticket holders by the start of the season, but more than 13,000 have already purchased tickets.
Chris Mautz of First Tracks Entertainment said the new theater is creating an opportunity in Salt Lake City "unlike anything that has happened in our marketplace."
"We're talking to bands, and they cannot believe for the first time they'll be able to come to Salt Lake City in a stunning new theater," Mautz said. "The experience the patrons will have with the artist will be so unique, so dynamic, so engaging. Every single night, magic will happen in this venue."
The first season's lineup — featuring rock 'n' roll bands, talk-show hosts, and even acrobats — will showcase the theater's capabilities.
"This very diverse and dynamic group of performers speak to what we believe the 'Live at the Eccles' (series) can be," Mautz said.
For more information about "Live at the Eccles" performances, visit artsaltlake.org.
* * *
"Live at the Eccles" debut season
2016
Nov. 2 — The Head and the Heart
Nov. 4 — Goo Goo Dolls
Nov. 7 — Amos Lee
Nov. 11 — Jay Leno
Nov. 12 — Morrissey
Nov. 13 — Postmodern Jukebox
Nov. 22 — Chris Isaak Holiday Tour
2017
Jan. 27 — Kathy Griffin
Feb. 15 — Neil deGrasse Tyson
Feb. 18 — Elvis Lives!
March 6 — Experience Hendrix
March 11 — Golden Dragon Acrobats
April 29 — Johnny Mathis
May 2 — David Sedaris

Photos

Related Stories

0 Pending Comments

Sorry, we are not accepting new comments on this story, but if you have more to contribute please email

newstip@ksl.com

Showing of 6 comments

Sorry, we are not accepting new comments on this story, but if you have more to contribute please email

newstip@ksl.com