PAYSON — Thanks to the AID Foundation, a 4-year-old girl with significant health challenges can continue crossing finish lines with her family.
Tatum Peterson has Aicardi syndrome, which causes her to be mostly blind, have daily seizures and be unable to walk and talk, among other things, according to her mother, Katie Peterson.
While there are many things Tatum can't do, she can participate in races with her family.
"She loves to have the breeze on her face. She loves to be where the action is," Katie Peterson said. "She loves noise and music and people, and we think that she probably sees some light and maybe bright things, so we think that she likes the sunshine, and she definitely likes to be outside. And we like to be able to do things that she can come do, because a lot of things she can't really do with us, but this is one that we can all do together at kind of our own ability levels.
"Like my older boys are fast and I'm really slow, so we can all do kind of the same things but be together at the beginning and at the end and cheer for each other and drive there and have the after snacks together, but still be able to participate at our ability levels," she said.
Together, the seven family members have participated in the Payson Onion Days 5K/10K, The Provo City Half Marathon and 5K event and the Hobbler Half Marathon and 5K, Peterson said.
Unfortunately, little Tatum outgrew her family's jogging stroller, and they didn't think she'd be able to keep going with them, according to her mom.
However, when they were at The Provo City Half Marathon and 5K event in May, they saw another family who has a daughter with special needs using a jogging stroller Tatum would fit in. They talked to them about it and took some pictures so they could remember it, but when Katie Peterson got home, she learned it was about $900, and it wasn't something they were able to afford, she said.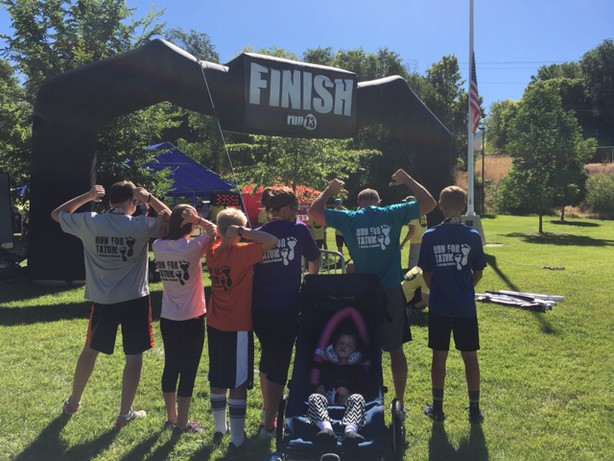 Fortunately, the Peterson's family running days didn't end there. Katie Peterson ended up applying for the stroller at AID.org.
Jennifer Rogers, executive director of the Advocates for Individuals with Disabilities Foundation, said people from all over the United States can apply or request assistance on AID.org.
"What we're really trying to do is give people gifts that are life necessity, not medical necessity," Rogers said. "So a lot of people that live with disabilities, their insurance tells them what they can and cannot have for their own life, and obviously we know that everyone needs something a little bit special. So we try to bridge that insurance gap by offering medical gifts or just life necessity gifts to individuals with disabilities."
Through AID.org, the family got the stroller. The stroller holds up to 200 pounds, so Tatum will be able to use it for years, Katie Peterson said.
"This just made us feel great, because we know we're going to be able to keep them healthy, keep Tatum with her family and really encourage other people to say, 'Hey, you know, don't ever let disabilities be a barrier. Do this as a family and encourage every person in the family to be involved,'" Rogers said.
Saturday, the family participated in the Hobbler Half Marathon and 5K again.
Photos
Related Links
0 Pending Comments
Sorry, we are not accepting new comments on this story, but if you have more to contribute please email
newstip@ksl.com
Showing of 1 comments
Sorry, we are not accepting new comments on this story, but if you have more to contribute please email
newstip@ksl.com