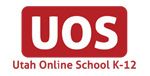 This story is sponsored by Utah Online School—a free public school open to all students in grades K-12 living anywhere in the state of Utah.

Summer is meant to allow students to relax and recharge, but like any skill, their capacity for analytical thinking can atrophy if those students don't keep their brains active. You can keep your kids at the top of their intellectual game by encouraging them to keep up with their studies even when they aren't in school.

Check out these educational apps. Which ones would your kids love?

($2.99)

Age level: Preschool (2-6 year-olds)

Looking for an educational app for your preschooler that will hold his or her attention, teach valuable skills, require little help from an adult and is devoid of in-app purchases or advertisements? This is it. Winner of the 2014 Parents' Choice Approved Award, this app stimulates preschoolers' creativity and their imaginations all while introducing them to new concepts and vocabulary.

(Free for lite version)

Age level: K-12th grade

Help your kids stay on top of their language skills with this educational app that turns spelling into a game. The free version includes 10 of its most popular learning activities and word lists. Kids will learn new words in a variety of categories with lists tailored to meet the learning levels of kids from kindergarten through 12th grade.

(Free)

Age level: 4-6th grade

Kids practice addition and multiplication as they work against the clock to serve up sushi to some very hungry monsters. With 12 levels and a new challenge with every play, it's a game kids won't get bored of quickly.

($1.99)

Age level: 3rd grade and up

The world is at your children's fingertips with this interactive app that teaches them about geography, map reading, the capitals of each country, and the capital and location of each U.S. state. Plus, they can test themselves with 18 quizzes on U.S. geography. Great for any age, even for adults who want to brush up on their knowledge of world geography.

($2.99)

Age level: 3-7th grade

Get your kids a head start on algebra or keep it fresh in their minds over the summer. Players of "Monkey Party Lean Algebra" help Cappy the Monkey collect fruits and barrels of food. The fruits act as variables and provide a practical way of explaining algebra to kids who learn best visually

($2.99)

Age level: Not specified (must be able to read)

Knowing a foreign language always comes in handy, so why not encourage your kids to start learning Chinese this summer? Even 10 minutes a day of "LoopSkool Chinese" can help you start learning Mandarin with rhythmic chants, simple sentences, interactive exercises and timed tests that quickly teach you useful words and phrases

(Free)

Age level: High school

Create flashcards and access them anywhere, anytime. Help your high school student create cards that review this year's curriculum so they can stay on top of their game this summer. Waiting in line, going for a walk, or falling asleep at night, they can pull up this app and review their flashcards, which will help move all that vital information they learned this year from their short-term to long-term memory. Each year they can add to their flashcard database and deepen their learning.

Utah Online Learning wants to help the students in your life maximize their learning potential. Visit utahonline.org to find out more about how online learning could benefit your child.
0 Pending Comments
Sorry, we are not accepting new comments on this story, but if you have more to contribute please email
newstip@ksl.com
Showing of 2 comments
Sorry, we are not accepting new comments on this story, but if you have more to contribute please email
newstip@ksl.com