OREM — Ed Eyestone was a state champion cross-country runner at Bonneville High before becoming one of just four runners to win the three collegiate distance races in one calendar year.
In 1985, Eyestone won the NCAA cross-country championship, as well as the 5,000 and 10,000-meter runs during the track season while competing at BYU.
Following graduation, he set his sights on the Olympics, eventually qualifying for the U.S. Olympic marathon team for the 1988 Summer Games in Seoul, Korea, and 1992 Olympiad in Barcelona, Spain.
"Running will always be an important part of my life," Eyestone said. "I was consistent … I could usually be counted on doing well consistently. If I took the line, I was going to give it my all."
A relative novice on the greens, Eyestone caught up with KSL Golf at Sleepy Ridge Golf Course in Orem, where he is more comfortable running the fairways than swinging for the greens.
Though he never won an Olympic medal, Eyestone found joy in the journey of seeing his dreams become a reality.
"I would say making the Olympic team was probably as fulfilling as the games themselves," he said. "I felt like my performance in Barcelona wasn't a very good day for me, and Seoul was top-three or bust. I was with the leaders for 17 miles and the heat got to me.
"The whole pursuit of the goal was certainly as fulfilling as running in the games themselves."
Eyestone almost never started running professionally, though. Growing up in Washington Terrace, he spent his days playing baseball.
"I had it all mapped out; the course I was going to follow," Eyestone said. "But ultimately, my dreams hit a standstill when there was a thing in junior high called a 'tryout.'
"When I didn't make the baseball team as a seventh-grader, that was the first time I realized there was another sport in spring: track and field. I went from there."
Eyestone tried the pole vault, and moved into the sprints, but found that the longer events were his forte.
"When we ran the mile, I could beat more than half of the ninth-graders, which as a seventh-grader was a cool feeling," Eyestone said.
He struggled with stress fractures as a junior at Bonneville High, but returned to win a state title with the Lakers as a senior before enrolling at BYU. Eyestone was a 10-time All-American for the Cougars in track and cross-country, and won the 1984 individual cross-country title before adding championships in the 5,000 and 10,000-meter runs in 1984 and 1985.
"I had such great support from my teammates, my coaches at BYU, including legendary Clarence Robison," Eyestone said. "The key to success in distance running is staying healthy. If you can stay healthy and put in the mileage, good things are going to happen.
"It all comes down to being a little naive, and believing that good things are going to happen if you put in the work."
Eyestone graduated from BYU in 1985 after missing out on his initial Olympic goal — the 1984 Olympic team in Los Angeles. As the defending national champion in the 10,000 meters going into the U.S. Olympic trials, he was determined to make that team.
---
It all comes down to being a little naive, and believing that good things are going to happen if you put in the work.
–BYU track and cross country coach Ed Eyestone
---
It wasn't meant to be, and Eyestone fell in the final heat two days after blitzing his semifinal field.
Over the next four years, his goals shifted slightly — to the longest road race in the Olympic program, the marathon.
"I had not run a marathon yet," Eyestone said. "In a way, I was hedging my bets. I was probably faster (in the 10,000), but the marathon always came 4-6 months prior to the track trials. I knew I could run that distance, even though I was fairly new to the marathon event.
"I figured I'd give myself a shot at the marathon … and fortunately in both 1988 and 1992, I was able to make the team."
Eyestone finished a career-high 13th in the Barcelona Games, moving up 16 spots from the previous Olympics. During his 15-year pro distance running career, he made two Olympic squads, three U.S. cross-country teams for the world championships, and was a five-time U.S. Road Racer of the Year.
He even considered taking a shot at the 1996 Summer Games in Atlanta.
"I was still running very well, and still had a shot," Eyestone said. "I went down to Mexico and trained, but probably overtrained a little bit. I went into the trials fried, and a little over halfway, I didn't have it.
"You roll the dice, and sometimes they come up snake eyes."
By 2000, the nearly 40-year-old Eyestone was winding down his professional career. An assistant coach at Weber State, he returned to his alma mater as an assistant track coach and head cross-country coach in 2000, and took over the head track job in 2013.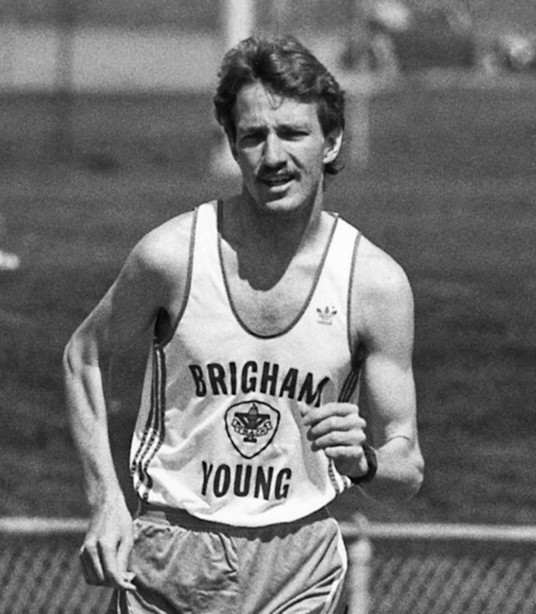 "I knew that I loved working with young people, and felt like I learned a thing or two about competing at a high level," said Eyestone, who also worked as a color analyst for the marathon at NBC Sports. "As much as I loved all that, I really wanted to get into coaching.
"I can't believe I've been (at BYU) for 16 years."
Eyestone was a six-time Mountain West Coach of the Year, and he also coached another NCAA national champion in Josh Rohatinsky in 2006. He's also coached three distance runners to NCAA track and field national titles in Josh McAdams (2006), Kyle Perry (2009) and Miles Batty (2011).
When the Cougars made the move to the West Coast Conference in 2011, he helped guide them to three WCC titles in five years.
"We're busy, we have great athletes in this system, and you get the same juice (as a coach) because we're competitive people," Eyestone said. "When you no longer can set goals for yourself as an athlete, you can work with young people who are in that position in their lives to do that at the highest levels.
"I was probably just as excited when Jared Ward made the Olympic marathon team a couple of months ago than I was when I did it myself."
Photos
Related Links
Related Stories
0 Pending Comments
Sorry, we are not accepting new comments on this story, but if you have more to contribute please email
newstip@ksl.com
Showing of 1 comments
Sorry, we are not accepting new comments on this story, but if you have more to contribute please email
newstip@ksl.com