AMERICAN FORK — In an ordinary office sits Adam Terry, a man starting over.
"I got fired," he said, speaking of his former life as a banker.
Circumstance led him here.
"That was a sucky day because we had put an offer in on a house," said Terry.
It was a day he remembers vividly. A day that flipped his life upside-down.
"Jan. 17," said Terry. "It was an emotional day. I remember calling my wife in the parking lot. I had to choke back some tears just because we had some hopes and dreams of buying a house. I had to call the realtor, and say 'Hey, I just lost my job, so we'll have to put that on hold.'"
But Terry picked himself up, dusted himself off and chased a dream.
"A local restaurant came up for sale," said Terry. "I didn't have any money, but I asked him if he'd be willing to take payment in equity over time. He laughed. He just laughed at me, I guess."
But the office where Terry works is no bank; it's the nerve center for an empire. Because like the old saying goes, when one door closes, another opens.
"I remember telling some of my family members and friends about doing a waffle truck, and most of them thought I was just crazy," said Terry.
Yes, a waffle truck. A little cheaper than a restaurant, and a lot more mobile.
In the beginning, it seems as though his dream was doomed to fail.
"I know it seems like we're selling a lot of waffles today," said Terry, while working in his truck. "But in the very beginning, when we first started, it was 13 waffles a day."
Related Story
His business suffered consistently slow sales, and it was rapidly becoming an outlaw operation.
"We'd be, like, selling waffles, and then a cop would come and tell us we had to shut down," said Terry.
The waffle truck was bound by red tape and regulations — enough to make a man pack up his dough and park behind a desk at another bank.
"When they slam the door on you so many times, it gets discouraging," said Terry. "It feels like, man, you just can't take the answer 'No.'"
Knocked down yet again. And yet again, Terry refused to quit.
"This is your chance," Terry said, remembering what he told himself. "I looked at it as my opportunity to go for my dreams. To provide for my family, and I went for it with everything I had."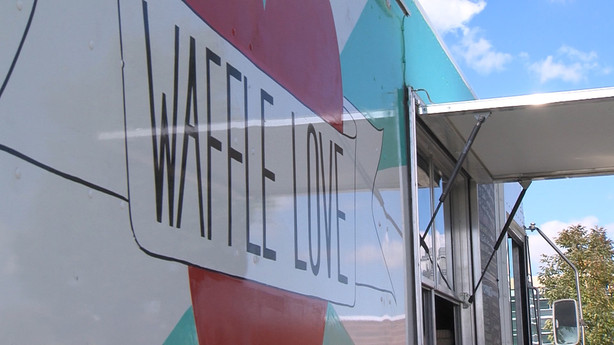 Today, Terry's waffles are selling like, well, like hotcakes.
He worked with cities all across the Wasatch Front to change their laws, making his waffles 100 percent legal. Today, he credits a lot of his success to fresh ingredients, brightly colored trucks and a sizable following on social media.
But for a man driven by dreams, a single waffle truck just wasn't enough.
"We have a total of six trucks," said Terry. "And then we've got a store in Provo as well, and we just opened a store in Arizona."
And now, Terry's waffles are flipping their way across the country. He recently took part in the "Great Food Truck Race," a reality TV show on the Food Network.
"We applied, the next day they called us back," he said. "They had a Skype interview with us, and then like two weeks later, we got on the show. So, pretty cool, man."
---
We applied, the next day they called us back. They had a Skype interview with us, and then like two weeks later, we got on the show. So, pretty cool, man.
–Adam Terry
---
Terry fell just a little short, coming in second, but for a guy who built an empire of waffles in three short years, it's not too shabby.
"One of the most satisfying things that has ever happened to me in my life," he said.
Terry may still spend time behind a desk, managing his business, but at least it's on his terms.
And today, the place Terry set up his waffle truck is in the parking lot of a bank. Proof that when one door closes, a waffle iron opens.
"How would you feel if your dreams came true?" said Terry. "And they come true every day. It's the most satisfying experience ever."


---
Ray Boone is a photojournalist for KSL. He can be contacted with story ideas at rboone@ksl.com.
Photos
Related Stories
0 Pending Comments
Sorry, we are not accepting new comments on this story, but if you have more to contribute please email
newstip@ksl.com
Showing of 44 comments
Sorry, we are not accepting new comments on this story, but if you have more to contribute please email
newstip@ksl.com