SALT LAKE CITY — On Saturday, the lawn of Kingsbury Hall was filled with laughter and deep conversations.
A diverse group of people lounging on red blankets were eagerly talking, energized by the experience of TEDxSaltLakeCity. It was the third time TEDx, an independently organized TED event, came to Kingsbury Hall at the University of Utah and once again it was a sold out show.
For the unfamiliar, TED is a global nonprofit that began in 1984 with an invitation-only Technology, Education and Design conference. The first TED conference had innovative talks on a variety of subjects and that tradition has continued. TED has since expanded from that 1984 conference in Monterey, California to events at locations all over the world and over a billion views of its videos of talks online.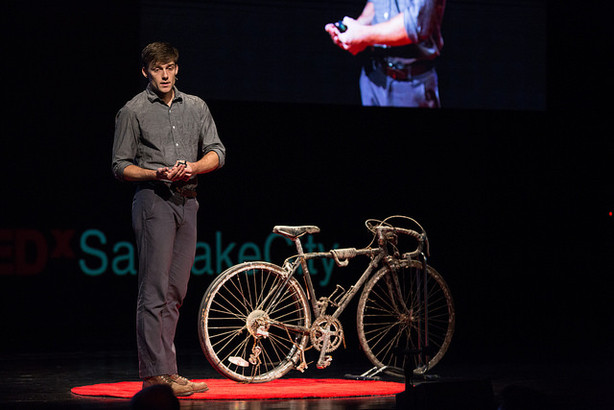 TEDxSaltLakeCity, like other TEDx events features, promotes locals in the community. Jason Sheperd, a member of the steering committee said TEDx is formed by "open curation" and "about 100 people applied and that was narrowed down to 15 speakers." The committee not only picks the speakers, but trains and supports them throughout the year. All committee members and speakers are volunteers and TEDxSaltLakeCity does not make money off the event.
The theme for this year's event was "upcycled thinking," which according to Shepard means "upscaling existing thinking." It's a broad topic that was reflected in presentations by Bicycling Collective, which refurbishes bicycles for the community, and speakers like Austen Allred, the developer of crowd-sourced news Grasswire which is "upcycling" journalism.
Interspersed between talks on wide-ranging subjects like the power of music and circuit bending were an videos from the main TED talk events and live performances. Aerialists and B-boys graced the stage along with lawyers and scientists.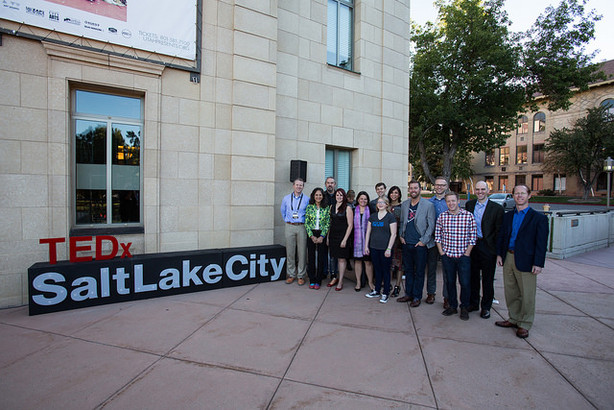 Both speakers and performances inspired the participants. Uilisoni Angilau described his day at TEDx, saying "I want to walk away a better person and leave recharged."
Others echoed the same sentiment to take upcycling in their personal lives at breaks throughout the day. The pauses pushed the participants, as diverse in their interests as the speakers, to spread the energy. These feelings were reinforced by a Doubledutch app which allowed attendees to chat and interact through a Facebook-like interface. Angilau noted that "TED talks online can be stagnant…in person you can collaborate and move to action."
Nalini Nadkarni, a rainforest canopy scientist at the University of Utah, summed up much of the spirit of the event in her closing talk. She spoke about the need to create "community tapestries" that allow for a diverse cross section of strengths and disciplines. Even though the speakers at TEDx Salt Lake City were from different backgrounds and cultures, they were unified in their passion to add their strand to the tapestry of Salt Lake City and beyond.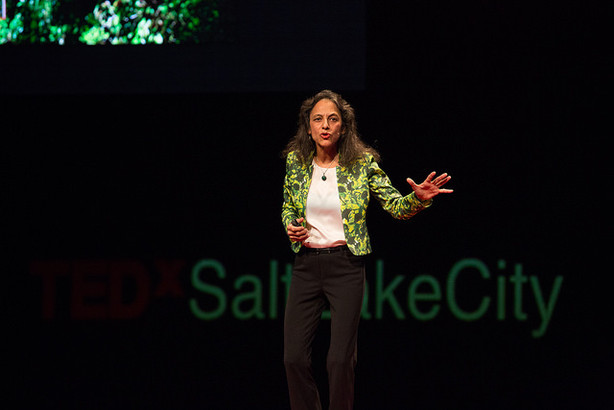 TEDx will continue through 2017 at Kingsbury Hall and, with community support, beyond that. There are opportunities for people to become involved by volunteering, joining the steering committee, helping find sponsorships or becoming speakers. Anna Decker, the director and curator of TEDx Salt Lake City says that "anybody can be involved…this is put on by the community."
When asked about why TEDxSaltLakeCity is important, Decker said that "we're all similar in lots of ways" and that TEDx can bring people together despite their differences.
To learn more about how you can be involved in TEDxSaltLakeCity, and add your own strand to the tapestry, check out the website.
Editor's note: Austen Allred and Jason Sheperd's names were mispelled in the original version of this article.
---
Carrie Rogers-Whitehead is a STEM advocate and a sometimes-purveyor of TED talks. She can be reached at rogers-whitehead@hotmail.com
Photos
Related Links
0 Pending Comments
Sorry, we are not accepting new comments on this story, but if you have more to contribute please email
newstip@ksl.com
Showing of 3 comments
Sorry, we are not accepting new comments on this story, but if you have more to contribute please email
newstip@ksl.com