OREM — A Utahn's idea to make sitting at desks more comfortable has caught international attention.
Matt Hulme, a Brigham Young University student, and his friend Brent Murray created a heated, hanging footrest called Foot Hammock. They first introduced the product on Reddit before showing it off a week later at the 2015 Consumer Electronics Show in Las Vegas.
A Kickstarter campaign for Foot Hammock went live Jan. 6, the first night of CES, and surpassed its $15,000 goal within 24 hours. The company's presence at CES proved key — Foot Hammock raised $5,000 in about 10 minutes when Hulme appeared on the Australian talk show Sunrise. As of Friday morning, the campaign had raised $63,360 with 1,532 backers and still 23 days to go.
"Some people have been marketing it as a gag and that's fine. Press is press and then through that some people are like, 'Hey, I actually want one of those. That's a good idea,' " Hulme said.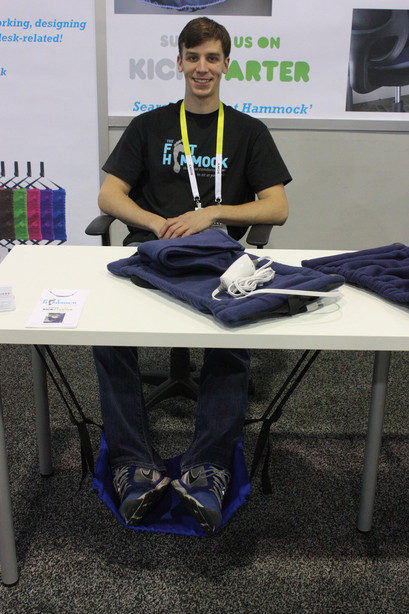 Backers on Kickstarter have the option of pre-ordering either a mesh or heated, fleece version of the Foot Hammock. The footrest comes with hooks to hang it from the bottom of a desk.
Hulme said he uses the product every day. In fact, the idea for Foot Hammock came when he was trying to solve a problem at his own desk space.
"I was using a printer to support my legs, but it broke because I put too much pressure on it," he said. "I was just looking for a replacement footrest and I wasn't satisfied with anything on the market — they were pretty much just a plastic ramp for your feet."
He soon enlisted the help of his friend Murray to make the Foot Hammock a reality, although it took a few iterations to develop a marketable product. Their first Foot Hammock was made with a sewing machine purchased at a Deseret Industries thrift store and a piece of carpet.
Hulme, who is a pre-management student hoping to study entrepreneurship or marketing, said he always wanted to start his own company and had tried his hand at several other projects before coming up with the idea for Foot Hammock.
"The goal was to create a company and a business, so eventually I started a couple of different products ... (in) areas I'm not really an expert in," he said. "I am an expert at sitting at my desk, so I thought I could add some value to that space."
Eventually, Hulme said his team hopes to get Foot Hammock into call centers and other offices where people spend significant amounts of time sitting.
Photos
Related Links
0 Pending Comments
Sorry, we are not accepting new comments on this story, but if you have more to contribute please email
newstip@ksl.com
Showing of 13 comments
Sorry, we are not accepting new comments on this story, but if you have more to contribute please email
newstip@ksl.com